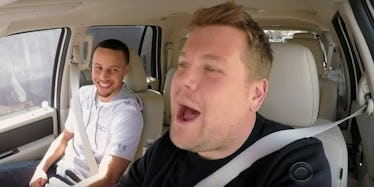 Steph Curry Slays Disney Songs In His Own 'Carpool Karaoke' With James Corden
YouTube
Steph Curry got a chance to do his own edition of "Carpool Karaoke" and it was a home run. Eff, sorry. Slam dunk. It was a slam dunk. Wrong sport.
Getting your own segment on "Carpool Karaoke" is a right of passage nowadays when it comes to being famous.
It's sort of like getting a shoutout in a "Stars Like Us" section in a magazine or dating a former Disney Channel star. It's a small win in the game of name recognition, but an important win nonetheless.
Steph Curry is the latest star to get a chance to sit in James Corden's mini-van and belt out a few hits...kinda.
The segment started with Corden meeting up with Curry after a practice.
After Corden built Curry up for his basketball acumen, the duo shot a quick game of mini-golf that devolved into Corden just trying to beat Steph at literally anything.
DDR, rock-paper-scissors, air hockey and a game of just guessing what number Corden was thinking all were at the mercy of Curry and his all-around greatness.
Corden at one point remarked,
He's the greatest shooter of all time, he's unbelievable at mini-golf, he's incredible at air hockey, he's great at the dance game. He's good at all games as far as I can work out. He's a really nice guy plus he told me an amazing noodle soup recipe I'm going to cook tonight. He's amazing, I hate him.
After the games portion of the clip, it was time to get down to business. If Curry wants to Carpool Karaoke then Curry gets to Carpool Karaoke.
After slaying that song from "Moana," Steph and Corden duet'd HARD on "Love Is an Open Door" from "Frozen."
You know, that song from "Frozen" that wasn't THE SONG from "Frozen"?
There is absolutely nothing this guy can't do.
He's like the male Adele.
THAT'S RIGHT! YOU HEARD IT HERE FIRST! STEPH CURRY IS THE MALE ADELE!