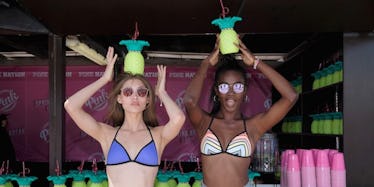 Victoria's Secret PINK Models Reveal Spring Break Beauty And Fashion Tips
Getty Images For Victoria's Secret
Just because your legs are 18-inches shorter and covered in random, dark patches of hair and hm-not-sure-where-that-came-from bruises, doesn't mean you can't do spring break like a Victoria's Secret PINK model.
Every year, Victoria's Secret PINK hosts the ultimate spring break event for 1,000 partiers. This year's vacation took place in Cancun, Mexico and was hosted by models Grace Elizabeth and Zuri Tibby.
As anyone who's gone on an alcohol and fun-fueled spring break trip can tell you, there's a lot that goes into having a good time and not looking like something that washed up on shore from the depths of the sea while doing it.
I had the chance to speak with the two model hosts about their personal beach style, skin and hair tips and favorite spring break products while they were partying in Cancun.
When asked to define her spring break style, Zuri Tibby told me,
I like to wear things that are versatile... Today, I'm wearing the Eyelash Lace Bralette by PINK, and that is amazing because I can wear it with high-waisted shorts during the day, and then at night I can wear it with a top and jeans and show off the lace detailing. I like bright colors in bikinis, I like the triangle tops from PINK and I really like bright-colored sunglasses, all that stuff.
Grace Elizabeth also mentioned she's all about versatility when it comes to beach style. She told me,
Well, there's not a whole lot of clothing involved in that beach style but today I'm going to be sporting the Eyelash Lace Bralette with high-waisted, dark denim shorts from PINK. [It's] super cute, easily versatile, maybe throw a tank over it and then later I'm going to change into my little triangle pink bikini.
It's no secret Victoria's Secret PINK should be your go-to spot for all boob-covering products, and these bralettes are as affordable as they are effortless.
Grace raved more about the product, saying,
You can wear it outside with just a denim short or nice pants or a cute, little blazer -- which seems to be the trend right now... or you can throw a super soft tee with it that has an open back. It's a halter top, so it gives you a nice little lift, a nice shape and it comes in all kinds of prints and colors. 
While anyone can swipe their card for some spring break style, it either takes the combined genetic traits of Blake Lively and Gisele Bündchen or a few simple hacks to get the tousled beach waves we all desperately crave.
To obtain her beachy look, Grace said,
I like to go very natural just a salt spray done-undone look.
Zuri agreed, and told me,
I really like top buns and messy buns. I really like French braids and also just natural textures, going into the water and coming out just getting those beach waves. 
Even the frizziest person out there can handle a quick spritz of salt spray.
It's hard to tell if makeup on the beach is obnoxious or necessary. Personally, I don't think anyone should rock a smokey eye or even a red lip on the beach because, like, chill. However, a few face-boosting products couldn't hurt.
In regard to beach makeup, Zuri said,
I think it's a little ridiculous, but sometimes I like to take selfies so I'll wear a bit of tinted moisturizer with SPF in it… I won't really wear mascara, but fake eyelashes I think are easier because if you get your eyes wet, you could ruin the mascara. So I'll do those and a bit of lip balm.
Fake eyelashes are a great call, especially if you don't want to end up looking like Britney Spears cry, cry crying in her lonely heart.
Additionally, both Grace Elizabeth and Zuri Tibby stressed the importance of keeping your skin safe by using sunscreen and your body hydrated by drinking lots of water.
While spring break may be the ultimate excuse to hop on stage, take your top off, kiss a stranger, elope and swan dive into a probably-STD-ridden cesspool of flopping bodies all while getting a perfect tan, it's ALSO your chance to show off your personal style and let your inner-Victoria's Secret model out to play!
Happy spring break, y'all. Don't do anything weird.