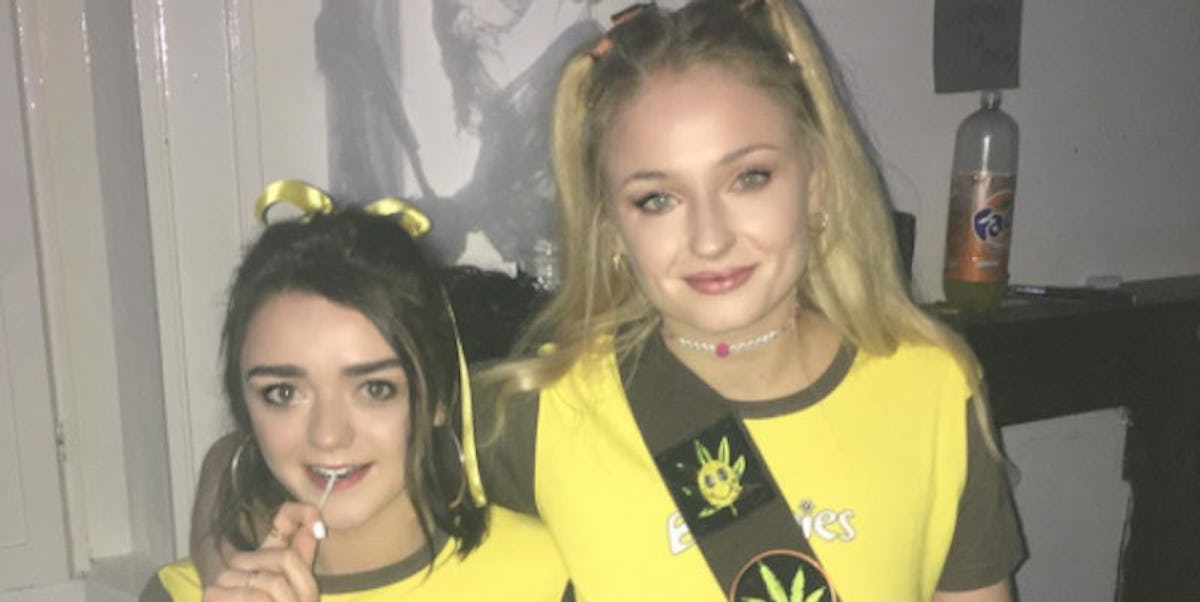 Arya And Sansa Stark Dressed As Girl Scouts Selling Weed For Halloween
Remember being a college student on Halloween?
No rules applied; you could stay out as late as you wanted and mix booze in ways that were varying degrees of disgusting. Halloween, truly, is for the young with healthy livers.
This season, the award for "best barely 20-something" costume goes to two very special ladies: Sophie Turner and Maisie Williams, both of whom you probably know for their starring roles on HBO's "Game Of Thrones."
The actresses are one year apart in age, which means they're basically best friends. For a Halloween party, Turner and Williams took their friendship to another level entirely by opting for a couples costume.
This isn't any Tarzan-and-Jane, Aladdin-and-Jasmine bullshit, either. Turner and Williams dressed as pothead Brownies (basically entry-level Girl Scouts), completed with sashes featuring marijuana leaves.
Williams captioned her Instagram, "Everyone loves a hash brownie." Hash brownies! Get it?
She'd previously posted a selfie sucking on a lollypop, adding,
Most people bring alcohol to house parties, @sophiet brings lollypops.
Regular lollypops? Weed lollypops? The rest is unclear.
The pair seems to have spent the whole weekend hanging out, judging by their photos.
Williams even posted a shot of the two besties dressed to kill in a bathroom, with the caption,
I'll remember this noooorrrrty weekend for the rest of my life.
Turner, for her part, added,
Just pure nortiness.
I have a few questions, here. First off, why didn't Kit Harrington get to be a Girl Scout? The world has been waiting to see his upper thighs for some time now.
Secondly, does the rest of the "Game Of Thrones" cast have major FOMO after seeing all these photos? You just know Williams and Turner are going to be giggling over inside jokes and swapping clubwear after this.
This brings me to my final point: Uh, why didn't I get invited?