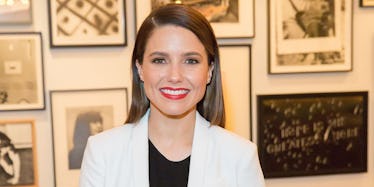 Sophia Bush Gets Real About Empowering Women And "Breaking Our Taboos" – EXCLUSIVE
Jeff Schear/Getty Images for EBTH.com
Like most 20-something-year-old women, I grew up with Brooke Davis on my TV screen, quoting her classic One Tree Hill one-liners and crying into my pillowcase over her destined-to-fail relationship with Lucas Scott. (Clothes over bros, am I right?)
However, as I grew older, I began to fall more and more in love with the woman behind the role: Sophia Bush.
Actress, director, spokesperson, activist... Sophia Bush literally does it all. I was in awe of her for nine straight seasons as she owned the hallways at Tree Hill High, so just imagine what it was like for me to actually meet her in person.
That's right, folks. Prepare to feel jealous.
I was able to sit down with Sophia Bush to discuss her awesome new partnership with Teva Women's Health to raise awareness among women that hormone-free birth control exists.
The campaign, #NoHormonesPlz, has a strong female empowerment message, which we know Bush is all about. The women's rights advocate has become known on social media, by fans and followers, for her outspoken, feminist viewpoints. She doesn't hold back and she'll do whatever it takes to help young women feel strong, safe, and heard.
When asked why she's the perfect person to help #NoHormonesPlz drive women to inquire about going hormone-free when at the doctor/gyno, Bush told Elite Daily,
I'm really not shy when it comes to talking about women's issues and women's rights, and I think sovereignty over our own bodies and the ability to take care of ourselves and our health and also to family plan – whether that means you're planning to have a family or not – is right, and I think it's so interesting that we have 10 different options for milk – whole milk, skim milk, and almond milk and soy milk – and we don't even know that many options of what we're doing with and for our own bodies. It's crazy to me.
More than that, though, Bush shared why it's important for women to dive deeper into asking questions about their health. She said,
I think it's really important we start breaking taboos and having more of these open and honest conversations about our bodies and our health because women have been cultured to be embarrassed – we're nervous to talk about our periods, we're nervous to talk about birth control… is it OK? Is it the kind of thing you can discuss at the dinner table? And yes, of course, you know we're 51 percent of the population, come on! And so for me, I find such power and support in having a lot of these really open conversations with my friends and with my audiences and when this opportunity came up I was like, 'Hell yes, let's talk about this stuff'… let's talk about the fact you have options for hormone-free birth control, for birth control with hormones, that you can look at a plethora of things and can talk to your doctor to figure out what's right for you. And you don't need to be embarrassed to ask and you don't need to be embarrassed if you don't already know. It's OK.
Many women, of course, might not have the right resources to help start these conversations with their doctors. That's where the #NoHormonesPlz website comes in. Bush explained,
We actually have a site going up to help educate women and also hopefully prompt questions for women to ask their doctors. It's nohormonesplz.com. On the site, women can check out a new video we've released to help make sure they know that when it comes to their birth control, they have options. I'm just really excited to make stuff easily accessible and to hopefully break a taboo.
The campaign does exactly what Bush says: provides women with education on birth control options for their bodies.
#NoHormonesPlz was actually born out of a survey fielded by Teva Women's Health of 197 U.S. women ages 23-34 years, and as the site explains, "more than half of women responded that they had some concern about using hormonal birth control, but used it anyway because they weren't aware of other options."
One option happens to be PARAGARD, a copper-releasing device that's placed in the uterus to prevent pregnancy for up to 10 years. PARAGARD is more than 99 percent effective and also completely hormone-free.
Now, I have to be honest: I've been looking into getting an IUD lately, so PARAGARD sounds like the perfect option for me. However, I'd love to know where I can get more information besides, you know, talking to my BFF Sophia.
Therefore, the star shared with me advice she'd give women on how to become better educated and access helpful resources. She said,
I think, talk to your doctor, first and foremost. Ask all of the questions and don't be embarrassed about what you don't know or what you need out of your birth control… and also, I think it's important to talk to your friends. Bring it up. Say, 'Hey, what are you guys doing? What are you guys using? What have you learned that you can share with me?' I think it's on us to really expand and open the conversation and I think it's really wonderful we can do that in our friend groups and have medical professionals to talk to as well.
I have to just say, by the way, Sophia Bush might be the most well-spoken and eloquent human I've ever met in my life.
It was clear in her tone how passionate she feels about empowering women to speak out about their concerns and fight for their rights. More than that, though, I felt a sort of urgency in her voice.
I asked Bush to explain why now, more than ever, women should speak out about these issues:
I think we're living in a time when women's bodies are being treated as pre-existing conditions – that's insane to me. And I think it's really important for us to make sure we know our options and we're getting educated because our rights and our health care are worth fighting for. This is a big part of the #NoHormonesPlz campaign – we want women to feel empowered by being educated on what birth control options are available to them so they can make informed decisions.
Be sure to visit www.nohormonesplz.com to learn more about the awesome campaign and educate yourself on the best options for your body.
You can also enter sweepstakes on the site for the chance to win a meet-and-greet with Sophia or a $1,000 spa gift card.
It was great to meet you, Sophia Bush. Thanks so much for leading the way for so many women and inspiring us every day.