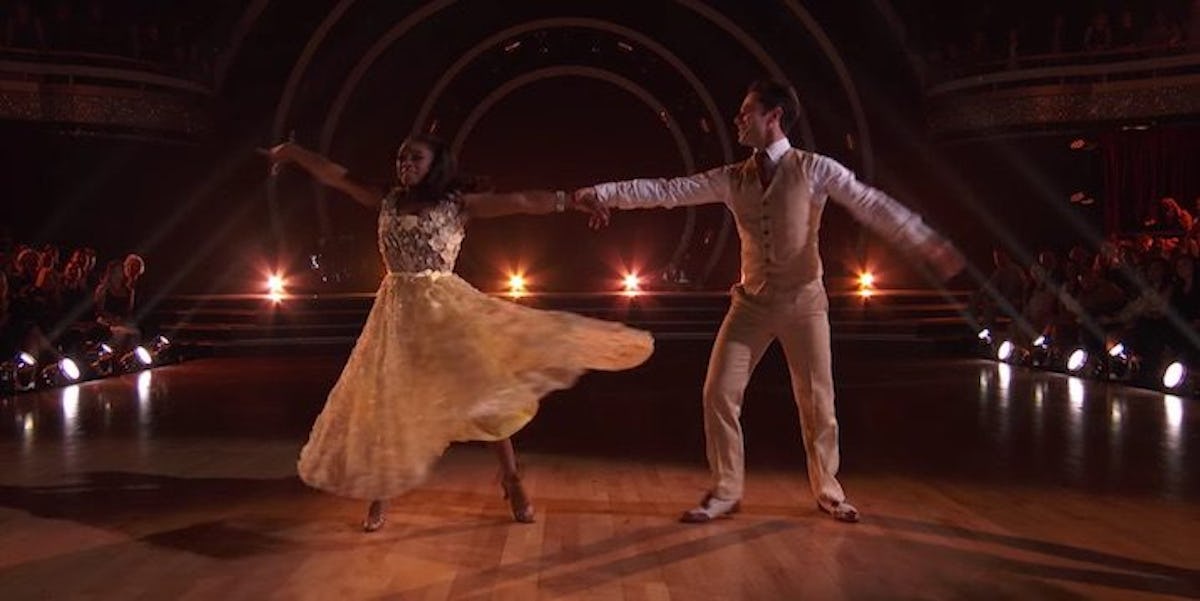 Simone Biles' Emotional 'Dancing With The Stars' Routine Will Make You Bawl
YouTube
Simone Biles showed us a side of her we haven't seen before during a highly-emotional episode of "Dancing With The Stars."
During the episode — which honored the series' "Most Memorable Year" week — contestants let their guards down and spoke about the hardships they've overcome throughout their lives that've made them who they are today.
Judging from her success at Rio during the Olympics last year, it's easy to assume Biles would've talked about that, right?
Well... not exactly.
Instead, she tearfully opened up about the year she was adopted by her biological grandparents, ET reports.
The 20-year-old gymnast spoke about the hardships of growing up with her biological mother, who abused drugs and alcohol.
When she was 3 years old, she was sent to foster care and only looked forward to seeing her grandparents when they visited — and eventually, they adopted her and helped mold her into the successful woman she is today.
During the show, Biles said,
Growing up, my biological mom was suffering from drug and alcohol abuse, and she was in and out of jail. I never had mom to run to. But I do remember always being hungry and afraid.
Biles' dance routine with her partner, Sasha Farber, reflected the hardships she faced as a young girl, and it's enough to make you sob.
The duo Viennese waltzed to "Good Good Father" by Chris Tomlin, and we knew it was going to be an emotional one when Biles started the routine with tears in her eyes.
Regardless of how emotional the gymnast became, she made it through the routine with the help of "muscle memory."
She even showcased some gymnastic moves during the dance.
LOOK AT THAT SPLIT.
She really kept it together, and we're super proud of her.
At the end of the routine, Biles ran up to her parents to give them a hug, and they sobbed until it was time for the judges to give her a score.
Biles commented on their relationship and said,
My parents [grandparents] saved me. They've set huge examples of how to treat other people and they've been there to support me since day one. There's nothing I can say to them to thank them enough. Even though there's no right words, maybe dance will say it for me.
Grab a box of tissues and watch her performance below.
Citations: 'DWTS': Simone Biles, Mr. T, Nancy Kerrigan and More Bring the Tears During 'Most Memorable Year' Performances (ET Online)