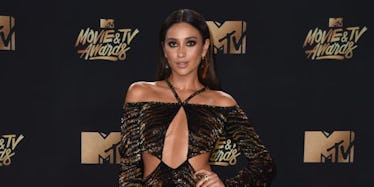 Shay Mitchell Kills The Fashion Game With Sheer Dress At MTV Awards
Getty Images
Sometimes I like to imagine myself on a red carpet and what I would wear. Giant feathers, maybe? Something sparkly? Something way too short or way too long? Something baring my naked butt?!?!?
Never would I ever think, "Zebra sequins, bell sleeves, side cutouts followed by sheer fringe," but that's why I'm not Shay Mitchell.
The "Pretty Little Liars" actress took to the MTV Movie & TV Awards red carpet, first rocking the gold and black zebra print masterpiece I just described, and later changing into a strappy, sheer LBD (little black dress, for those of you who are new to the game) to do a segment with "Black-ish" star Yara Shahidi.
Call me NOT a fashion expert, but some of those little stitches look precariously placed.
I'd be worried if I sneezed, my top would unhook from my button and then I'd be free-balling in front of God and the cast of "Stranger Things."
Shay doesn't give a little F though, swapping risky for risky when she jumped into this black sheer number.
You know, just classic Shay standing with a shiny car and some nipple pasties.
And Shay wasn't the only one there to slay in amazing fabrics and styles.
And the whole cast of "Stranger Things" looked like the coolest kids this side of the upside down.
Or, you can do what host Adam Devine did and just commit to an animal costume and call it a night.
What can I say, when ya got it (it being a glam squad and makeup artists trained to specifically to make your unique skin, face and hair glow with all the strength of a thousand paparazzi camera flashes), then ya got it.
To each their craziest desires own, that's what I always say.