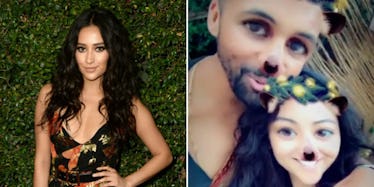 Shay Mitchell Confirmed She's Dating This TV Host With The Cutest Pictures
Twitter
If Snapchat is to be believed, and we have never had any reason to doubt it before, then "Pretty Little Liars" star Shay Mitchell is officially off the market.
A source has told ET that Mitchell has been dating Matte Babel, a TV host and music manager, for "a few months."
A few months, Shay?! And just when were your father and I going to meet this young man?! What's that? You don't have to introduce your boyfriend to a stranger on the internet? Oh...
The source adds,
They are serious and are having fun together.
The couple were introduced through mutual friends in Los Angeles, but they're both actually our neighbors from the North or as I refer to them: America's chapeau.
They're both from Toronto!
In fact, Babel is good friends with one of the most famous Torontonian Drake as well as Ryan Silverstein, Mitchell's ex. Awkward?
The source said,
Matte brought Shay with him to Drake's 30th birthday party, and they just spent the holidays together.
Mitchell even snapped their holiday.
The couple must be pretty serious, because I'm sure you don't take just anyone to Tulum, Mexico to ring in the New Year, right?
Shay's social media has been chock-full of gorgeous shots of her vacation.
They stayed in an "adult style" treehouse.
The atmosphere was incredibly romantic.
The 29-year-old recently wrapped up the seventh and final season of "PLL." She said it made her feel a range of emotions,
Sad, anxious, excited, terrified, inspired, gratified, nervous, unsure, proud, upset, accomplished, relieved, devastated, lucky: I didn't know it was possible to feel so much at once, yet I sit here with all my feelings. Our show ending is such a weird, unique thing that I have only experienced from where you all are sitting: the viewer's side. I remember shows I watched growing up ending and all that came along with a series finale, yet where I am seated now is so different. I don't know what my life would've looked like without Pretty Little Liars… I can't believe it's over.
But it looks like she'll have a lot to look forward to in 2017.
Citations: EXCLUSIVE: 'Pretty Little Liars' Star Shay Mitchell Is Dating TV Host Matte Babel (ET Online)