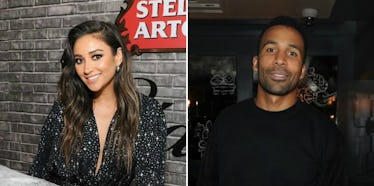 8 Things To Know About Shay Mitchell's Rumored Boyfriend, Matte Babel
Craig Barritt/Getty Images Jamie McCarthy/Getty Images
The Teen Choice Awards is fast approaching and it's a biggie for one of my favorite celebs. My hair icon and wardrobe role model, Shay Mitchell, is definitely one to watch out for. Mitchell has two nominations — Best TV 'Ship and Best TV Actress for Drama/Action Adventure. While I totally think she should win, I'm more interested to see if she'll bring her rumored boyfriend. So, who is Shay Mitchell dating? Reportedly, she and television personality, Matte Babel, have been together since January 2017.
Elite Daily reached out to Shay Mitchell's team to confirm her relationship with Matte Babel, but her team declined to comment.
Besides being super cute together, here are eight things you should know about Matte Babel.
1. Mitchell and Babel are both from Toronto, Canada.
It's amazing these two Canadians found their way to each other. You know the old saying — You can take the fabulous people out of Toronto, but you can't take Toronto out of the fabulous people.
2. It looks like they went on vacay together.
Mitchell just went on a glam #ShayCation to Greece to ring in the finale of Pretty Little Liars. It looks like Babel was also there to soak it all up, and their photos are cute AF.
3. His football game is strong.
According to Teen Vogue, Babel played professional football in Europe for a short time. More recently, he scored the winning touchdown during his flag football game. He hasn't loss his touch. Mitchell is known for being a workout maniac, so I'm sure these two bond over fitness secrets.
4. They're playful with each other.
In the video above, Babel interviews Mitchell on the set of Cadaver in January 2017. Although they keep it PG, I can't help but notice they playfully tease each other. So sweet.
5. He's friends with Drake.
Take it from Mitchell — it's good to have boyfriends in high places. Reportedly, Babel brought Mitchell to Drake's birthday party. So, you know... that's cool.
6. He's six years older than Mitchell.
According to his IMDb page, Babel was born on October 13, 1980, while the actress just turned 30 in April. Age difference or not, these two look flawless together. What's a few years between lovers?
7. Babel is big in the music world.
In addition to reporting, Babel has been the CEO of Ransom Music Group since January 2011. Maybe love for music is what he bonded with Drake over.
8. He's been on Degrassi: The Next Generation.
This was just for the laughs. Not only did Babel appear in two episodes of Degrassi: The Next Generation, it looks like he got a lot of buzz for doing it. According to his IMDb page, Babel made his two episode run as "Next Teen Star host" in 2010.
Although I'm not sure if Mitchell and Babel will be walking the red carpet together anytime soon, these two are definitely low-key couple goals.