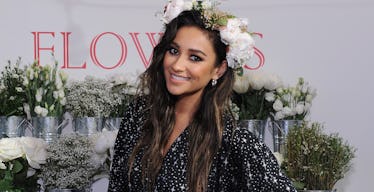 Shay Mitchell Reveals Her Fitness, Beauty, And Party Secrets For Summer
Photo by Craig Barritt/Getty Images for Stella Artois
Shay Mitchell's Instagram is a work of art.
Her posts provide all the fitness, beauty, and travel inspiration you could ever want.
Now, the 30-year-old actress and author, who sky-rocketed to fame playing Emily Fields on Pretty Little Liars, is adding another title to her resume: hostess extraordinaire.
Partnering with Stella Artois for its "Host One to Remember" campaign, Mitchell is encouraging people to throw their own parties, which she says is one of her passions.
I recently had the chance to sit down and talk to Mitchell about all things summer – she also opened up about the series finale of Pretty Little Liars – and her beauty, fashion, and party-planning tips are worth remembering.
When it comes to summer hair, Mitchell suggests keeping it casual with a wave and adding in a little salt spray.
She explained,
I think for summer, going with a wave is just the easiest because any time you try and do a pin-straight hair it's never going to work, especially with humidity, and on the East Coast, we all know that your straight hair turns into a wavy mess anyways.
If you're headed on a trip, don't forget to pack extra chargers so you can capture every picture-perfect moment.
Mitchell said,
I have like five travel chargers because there is nothing worse than when you're at this beautiful destination, you're watching this insane sunset, and your phone dies. So I always have backup chargers with me at all times.
Change up your workouts regularly, and take a jump rope with you on vacation.
Mitchell loves boxing and dancing, but said the key is changing it up to "confuse your muscles." She said,
When I travel I bring a jumping rope with me and that burns so many calories. You can do it anywhere. Find a little spot and just skip.
In terms of the hottest fashion this season, you can't go wrong with a summer dress.
She told me,
You put it on, that's it, you throw on some sandals, and you're good to go. But I'm more of like 'less is more' for summer. I just want a simple dress because I get really hot, so no layers thank you.
Her advice for throwing a party is simple: make it memorable.
Mitchell said adding your personal touches and "the things people wouldn't assume" make a party stand out. If you're on a budget, she suggested a potluck because then the dishes also serve as conversation starters.
For the Stella Artois Braderie -- a Belgium-inspired street fair in NYC -- that she hosted, Mitchell made a special spicy Aioli sauce to go with hamburgers. There was also music, games, and a flower crown station.
It's safe to say any party Mitchell throws will be memorable, but I'm willing to take all her advice this summer in hopes I can be half as chic as she is.
We may have to say goodbye to Emily Fields soon, but Mitchell and her enviable style are here to stay.