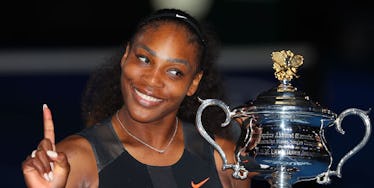 Serena Williams Claps Back At Sexist Comments: "Respect Me And My Privacy"
Scott Barbour/Getty Images
How do you handle it when someone questions whether you can do your job as well as a man? If you're Serena Williams, you raise a brow, drop a mic, and go on about your day.
In a June 25 interview with NPR, retired tennis great John McEnroe, who's promoting a new memoir, called Williams the "best female player ever." How nice! Except then he suggested that's only because she's never played against men.
"If she played the men's circuit she'd be like 700 in the world," McEnroe said of Williams, currently ranked number four by the Women's Tennis Association. "Maybe at some point a women's tennis player can be better than anybody. I just haven't seen it in any other sport, and I haven't seen it in tennis. I suppose anything's possible at some stage."
Oh no. On Twitter, Williams was not having it. And with grace, class and probably a fair amount of exasperation, she shut. It. Down.
Serena Williams does not have to prove herself to anyone. Good day sir!
Williams is hardly the first woman who's had her professional competency questioned by a man, but it's a little rich to do it to someone who is so clearly at the top of her game (literally).
The woman is a tennis machine. She's won four Olympic gold medals. She's won 23 Grand Slam singles titles. She won the Australian Open while actually, literally growing another human being inside her.
What does a woman have to do to be considered just "the best" around here, huh?
NPR's Lulu Garcia-Navarro, who conducted the interview with McEnroe, also seemed a little skeptical. "You really think at 60, you could possibly beat Serena Williams? Maybe pregnant," she added.
McEnroe: The way you put that makes me think that you have your doubts. Garcia-Navarro: Far be it from me to question you Mr. McEnroe.
Well, Williams definitely had no problem questioning it. Do not come at Serena Williams. She is not here to play.