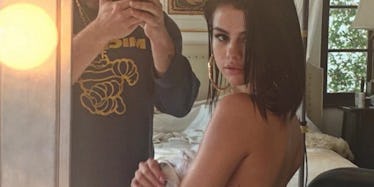 Selena Gomez Poses Topless And Shows Off Bare Butt In Raunchy New Instagram
Instagram
In a mere 24 hours, Selena Gomez has become one of the most unpredictable pop stars in the world.
First, she blindsides all of us with a steamy make-out sesh with The Weeknd behind a dumpster (tough luck, Bella).
Then, the 24-year-old singer decides to strip down to nothing but a towel and a lacy thong before having her naked bod photographed and posted to Instagram.
... I'm not kidding.
Selena's entire butt is visible in a kinky photo taken by a fashion photographer, Mert Alas.
Basically, Selena Gomez transformed into a badass bitch who doesn't give a fuck practically overnight, and we're loving every second of it.
In the picture, she's holding up a white towel to cover her front side and looking seductively into the mirror while Alas uses his cell to snap a photo in the mirror.
The only "accessories" Selena's wearing is a lacy yellow thong and a pair of dangling gold hoop earrings (they're HUGE).
Needless to say, she looks hot AF. Bieber, you jealous?
According to MailOnline, the photographer captioned it "Beauty and the Beast," and reportedly tagged The Weekend with a heart emoji in the comment section.
HEART EMOJIS ARE SERIOUS, PEOPLE.
Mind you, this scandalous picture follows several photos of Selena and The Weeknd kissing.
In the pics, Selena can be seen wrapped around The Weeknd's shoulders, smooching him on the cheek and then on the lips.
In my opinion, they're wildly adorable. She definitely can't "keep her hands to herself."
Yup. I'm definitely a fan of the revamped 2017 Selena Gomez.
As much as we admire her newfound spontaneity, there's a chick that isn't so fond of her anymore -- Bella Hadid.
Apparently, the model (who dated The Weeknd for two years) unfollowed Selena on Instagram after photos emerged of the pair making out.
They definitely have some bad blood brewing.
What's next, Selena?! You have us on the edge of our seats.
Citations: Selena Gomez shows off her pert derriere in a skimpy thong... as trolls brand her a 'snake' for 'betraying' Bella Hadid with The Weeknd romance (MailOnline)