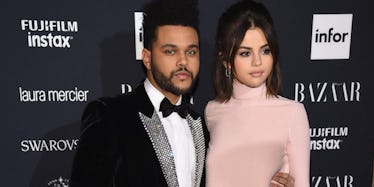 Selena Gomez And The Weeknd Reportedly Just Took A Huge Step In Their Relationship
Dimitrios Kambouris/Getty Images for Harper's BAZAAR
Are Selena Gomez and The Weeknd getting serious? Though the couple has been dating for less than a year, according to a new report, they moved in together! Does this new development mean that Selena Gomez and The Weeknd's relationship is going to go the distance? I won't get ahead of myself, but this sounds pretty promising. It's important to note, however, some of the specifics of this living arrangement. Though Selena Gomez and The Weeknd moved into an apartment in Greenwich Village in NYC, it's only a temporary arrangement. For now.
Hey, there's nothing like testing the waters out to see if you can live happily with someone in the same space before committing to it fully. It's a total win-win for both of them. Elite Daily reached out to Selena Gomez's and The Weeknd's teams for comment, but did not hear back by the time of publication.
Entertainment Tonight reports that Gomez and The Weeknd are sharing the apartment while she films an untitled Woody Allen project. He's currently on tour, so it's likely that, though they reportedly share an apartment, they'll be a bit like ships passing in the night.
A source told Entertainment Tonight that Gomez and The Weeknd are living together in a "low-rise luxury building in the heart of the Village," describing it as an "ultra high-end apartment" with Juliette balconies, high ceilings, an English kitchen, and a master bath with his and her vanities. Similar units in the building reportedly rent for $16,000 a month or more.
Their neighbors have no complaints about the stars, as ET's source noted: "They've both been very gracious to the neighbors and seem very happy with their living arrangement."
This latest development seems to reinforce the idea that Gomez and The Weeknd are more than just casual. The two have been spotted around New York and recently looked loved up and even shared some PDA on the red carpet at New York's Plaza Hotel for the Harper's Bazaar Celebration of Icons event.
Gomez's phone background is also a photo of a recent date night with The Weeknd, so if you're playing along at home, all signs point to these two being 100 percent relationship goals.
In a recent interview with Business of Fashion (BoF), Gomez dished on The Weeknd and it sounds like they're ridiculously happy:
My boyfriend just got me a beautiful Chanel bag, and [I love it]. It wasn't because it was a Chanel bag, it's because of where it came from and what it meant. So I wear it so proudly, and I feel cute when I have it on. I feel like, 'I love this!' it makes me so happy. It literally just happened so all my friends are laughing because every time I have it on, I feel a certain way. And that to me is an experience.
Now that's a girl totally gushing over her BF about how thoughtful he is and how amazing he makes her feel. I think The Weeknd has got all the romance and sweet gestures totally figured out. Lucky girl!
Oh, and one more clue that there's nothing but love between these two: Gomez and The Weeknd reportedly bought a puppy together, according to Elle.com! Yes, dog ownership is a classic sign that things are very serious... why else would you get a pet together if you weren't planning to raise that fur baby as a couple?
This little pooch has just the sweetest face (and look at Gomez's grin). I'm looking forward to their newest addition landing on Instagram because, honestly, how can they not share him or her with the world?