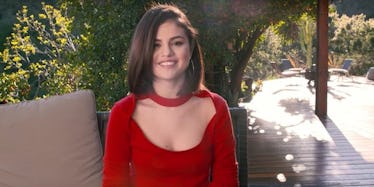 Selena Gomez Reveals She Went On A Romantic Rooftop Date In New Vogue Video
You
Despite being beloved worldwide, Selena Gomez requires very little when it comes time to surprising her.
During her "73 Questions" interview, the pop star told Vogue her "biggest surprise" was "a romantic dinner on a rooftop."
Selena has dated men who could afford to build her a yacht from the bones of British royalty and she's still like, "Oh my gosh, babe, you made toaster waffles?! And we're eating them OUTSIDE?!!"
The "It Ain't Me" singer also admitted she loves "eating [her] nana's food," described herself as "loyal, kind, giving" and can't stand "people who act entitled."
Throughout the video interview, there was noticeably no mention of Selena's boyfriend, The Weeknd, and she skirted questions about their relationship in print when the magazine chatted with her earlier this month.
She said,
Oh, Mylanta! Look, I love what I do, and I'm aware of how lucky I am, but — how can I say this without sounding weird? I just really can't wait for people to forget about me.
The Weeknd is less cautious about sharing peeks into his life with Selena. He recently packed his Instagram story with clips of Selena exploring the aquarium.
Her man's open approach to their relationship means Selena can keep giving non-answers in interviews without fans rabidly wondering about the couple's status.
Besides, Selena has an amazing fan base she tends to like her own massive, beautiful human garden (an image that is bone-chilling if you think about it too literally).
She shared,
People so badly wanted me to be authentic, and when that happened, finally, it was a huge release. I'm not different from what I put out there. I've been very vulnerable with my fans, and sometimes I say things I shouldn't. But I have to be honest with them. I feel that's a huge part of why I'm where I am.
Oh, Selena. Trust me and your 114 million Instagram followers when we tell you how much we appreciate having you in our lives.
Citations: Selena Gomez Reveals the Candid Advice She'd Give Her 15-Year-Old Self in Vogue's "73 Questions" (E!)