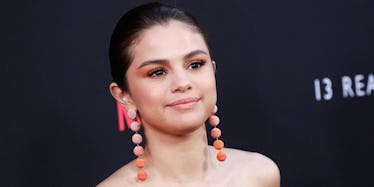 Selena Gomez Dropped A New Song For Her Netflix Series And It's Heartbreaking
REX/Shutterstock
What better way to end your week than with Selena Gomez crooning dramatically in your ear?
Selena is taking things back to the '80s with her latest new music: a cover of Yazoo's "Only You." The song dropped on Selena's YouTube Vevo page on Thursday.
Selena's version of the 1982 hit is slow and emotional.
It's pretty different from the upbeat, electronic pop original from Yazoo.
AKA, it's a lot less fun.
But it makes sense, because the track is featured in the new Netflix series, "13 Reasons Why," which is not a particularly upbeat or fun show.
The show, on which Selena Gomez is an executive producer, is based on the young adult novel "13 Reasons Why" by Jay Asher.
The story follows a teenage girl named Hannah (played by Katherine Langford), who commits suicide after she struggles with her mental health. Hannah's friend Clay Jensen (Dylan Minnette) tries to figure out the reasons she decided to end her life.
The Netflix adaptation is 13 episodes long, one for each reason.
Selena and her mother, Mandy Teefey, have been involved in the book's screen adaptation for nearly seven years, originally planning on having Selena play the lead role.
She didn't end up being as involved in the production as she would have liked, as the filming took place at the same time Selena was at a treatment center for her mental health.
At a Netflix panel attended by Elite Daily last month, Selena said,
I was going through a really difficult time when they started production. I went away for 90 days. I actually met tons of kids in this place that were talking about a lot of the issues that these characters are experiencing.
And, when Selena saw these stories about depression come to life on the screen, it was difficult to watch because of how close to home it hit.
She said,
It's hard, but I definitely relate to everything that's going on. I was there for the last episode, and I was a mess seeing it all come to life, because I've experienced just that, for sure.
All 13 episodes of "13 Reasons Why" are currently streaming on Netflix.
Citations: Selena Gomez Releases Emotional Cover of "Only You" (E! Online)