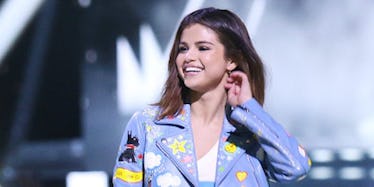 People Are Pissed At Selena Gomez After Hearing About Her New Movie Role
Michael Tran/Getty Images
Oh no, Selena. The "Fetish" singer just signed on for an eyebrow-raising project and fans don't know what to think. Gomez has reportedly agreed to work on an upcoming Woody Allen film, and it feels a bit... IDK... weird? This could be due to the director's controversial past, and now Selena Gomez's new movie with Woody Allen has a lot of us asking questions.
Elite Daily reached out to both Allen and Gomez's team for comment, but did not hear back by the time of publication.
Gomez has reportedly signed on to star in the upcoming film, which is set to be released with Amazon Production, according to The Hollywood Reporter. Elle Fanning and Timothée Chalamet will co-star, and for now, the project remains untitled and very mysterious.
The controversy of Gomez's decision to join the production lies in Allen's past, in which the director was accused of sexually abusing his adopted daughter, Dylan Farrow. In 1992, when Farrow was 7 years old, she claims to have come forward to her mother with allegations of abuse.
Allen addressed the allegations in a 2014 letter published in The New York Times. He wrote,
I naïvely thought the accusation would be dismissed out of hand because of course, I hadn't molested Dylan and any rational person would see the ploy for what it was. Common sense would prevail. After all, I was a 56-year-old man who had never before (or after) been accused of child molestation... ...Not that I doubt Dylan hasn't come to believe she's been molested, but if from the age of 7 a vulnerable child is taught by a strong mother to hate her father because he is a monster who abused her, is it so inconceivable that after many years of this indoctrination the image of me Mia wanted to establish had taken root?.... ...Of course, I did not molest Dylan. I loved her and hope one day she will grasp how she has been cheated out of having a loving father and exploited by a mother more interested in her own festering anger than her daughter's well-being.
In 2016, Allen addressed the allegations again at the Cannes Film Festival. He dismissed the claims and told People,
I've said everything I have to say about the whole situation in The New York Times.
He continued,
I have so moved on. I never think about it. I work and do my movies.
According to Twitter, fans feel betrayed by Gomez's decision to associate herself with the famous director, particularly after her work on the hit Netflix series 13 Reasons Why. As executive producer of the show, Gomez tackled heavy topics like suicide and rape head-on, and has worked as an advocate and ally for survivors and those struggling with their mental health.
Fans are now calling her out for being "fake."
Gomez is not the only beloved pop star to sign on to an Allen project. Miley Cyrus and Justin Timberlake have also worked with the four-time Academy Award Winner in the past. Gomez has not yet confirmed her involvement in the project or commented on the backlash she has received.
For now, we are standing by to learn more about Gomez's role and keeping our eyes peeled for updates on this project.