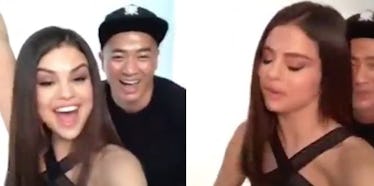 Selena Gomez Has Cringeworthy Reply To Joke About Justin Bieber And The Weeknd
Instagram
In order to understand this joke about Selena Gomez's ex-boyfriend, Justin Bieber, and her current boyfriend, The Weeknd, you're going to need a bit of background information.
First, you need to know Justin Bieber is Canadian.
It's true. He was born and raised in Ontario, Canada. Perhaps you already knew this.
But did you know The Weeknd, aka Abel Tesfaye, is ALSO Canadian?
He was also born in raised in Ontario, in a district that is now a part of Toronto.
You should probably also know Gomez has dated both of these men (and is, in fact, currently dating The Weeknd).
OK, great! Now that you know these things, we can finally get to the joke I was telling you about.
Basically, Gomez was doing an Instagram livestream with her makeup artist, Hung Vanngo, while she was on set for her Pantene shoot on Tuesday, March 21.
First, Vanngo had Gomez give a shoutout to his home country, Vietnam. Then he added Canada to mix... and I think you know why.
"And Canada," he said, to which she replied enthusiastically, "And Canada!"
But then Vanngo added, knowingly,
You know Selena love Canadians.
Then he started giggling maniacally while Selena immediately moved the camera away from him, saying "Alright, alright" in her "I'm so done voice," and actually turned off the Instagram stream.
(But she did come back on later, perhaps after giving Vanngo a talking to about boundaries.)
While she didn't seem too upset at her makeup artist, she clearly wasn't going to let him say anything else too incriminating to her many, many Instagram followers.
But look, Vanngo is right — Selena really does love Canadians. The facts are right there.
But Gomez has been very clear she doesn't want to publicly discuss her new relationship with The Weeknd, or her old one with Bieber, for that matter.
Which like, fair enough. Girl's got a lot of other more important stuff going on her life, after all.
Citations: Selena Gomez Has the Most Selena Gomez Response to This Justin Bieber-The Weeknd Joke (Cosmopolitan)