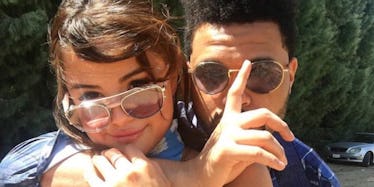 The Weeknd's Fans All Had The Same Thought After Hearing Selena Gomez's "Fetish"
Instagram
Selena Gomez had two singles drop today, but only one of them was intentional. "Fetish" was the intentional, and "Stained" was the leaked. What a time, guys. What a time.
Both of the songs are pretty amazing, but right now, fans are freaking out about a certain detail in "Fetish": The song sounds heavily influenced by The Weeknd's music style.
This is one of the most sexual songs Gomez has ever released, which is just one way it's similar to her boyfriend's music. (ICYMI, The Weeknd writes about sex a lot.)
But the actual music and beat behind the lyrics is what has fans shook, since it's a brand new sound for Gomez, whose music up until Revival has sounded exactly what a former Disney darling trying to transition out of the Disney sphere typically sounds like (I'm sorry, Sel, but it's true).
In other words, "Fetish" is the most mature song Gomez has released to date, both in the rhythm and the lyrics.
It says,
If I were you, I'd do me too
People are saying they love the new sound from Gomez, and they feel The Weeknd has had a positive effect on her music.
One fan has this truly excellent idea, and now I won't rest until it happens. Thanks a lot, random fan.
A "Fetish" remix featuring Kendrick Lamar and The Weeknd would end me. Although, I'm not sure Kendrick Lamar would want to third wheel on this one.
Gomez's "Stained" was leaked last night, and it has serious Weeknd vibes as well, though the content of the song is more about heartbreak than sex.
In the song, Gomez sings,
You were the one, the one that I could run to You were the one, the one that I would beg for, no And you were the one that made me believe that I could be better Yeah, you were the one, the one that I would run to Now I'm stained by you Like a coffee ring upon this table I'm unstable, I'm stained by you Like a goddamn soldier that just can't forget the battle I am stained by you Like a coffee ring upon this table I'm unstable, I'm stained by you (By you, by you, oh oh)
The song was leaked on SoundCloud and quickly posted on YouTube by various fan accounts, but the YouTube videos have already been taken down and the SoundCloud post will most likely be taken down next, if it hasn't been already.
I mean, it's always possible that Gomez and her label, Interscope Records, leaked the songs themselves (that's a thing artists do sometimes), but we most likely will never know the truth.
Whatever the truth is, Gomez might have just convinced me to actually go to one of her concerts.