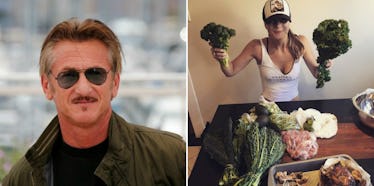 Sean Penn, 56, Has A New Girlfriend And She's A 24-Year-Old Smokeshow
REUTERS/Instagram
Well, well, well, would ya look at old Sean Penn.
Penn, who is 56 mind you, is reportedly dating Leila George, the 24-year-old daughter of actor, producer and singer Vincent D'Onofrio.
Now, some of you are sitting there feeling pretty creeped out after learning about Penn's new 24-year-old girlfriend, but let's not overlook the fact the 56-year-old has been able to pull some major babes over the years.
I mean, this cat dated Charlize Theron, so you know he has a way with women and is doing something right.
Still, the age disparity between Penn and George is hard to overlook, especially when you consider the fact Sean Penn has a daughter, Dylan, who is older than Leila George.
Sure, the "I Am Sam" star has been married to Madonna and Robin Wright and is also the same age as Leila George's mom, but this is love, people. Love knows no age, right?
Well, let's just get to the photo evidence, shall we? Here are a few pics of Penn and George in the ocean, making out and looking very happy together.
When the above photos were taken, though, it appears the world didn't quite know whom Sean Penn was with.
Now, following their appearance together at Penn's recent event "An Evening With Sean Penn" -- original, huh? -- it appears the couple just declared the seriousness of their relationship to the entire world.
Bravo to Sean Penn, right? Leila George is an absolute smokeshow!
From the looks of her Instagram page, it appear Penn's new girl knows how to take care of herself, too.
Fun fact: Leila George's dad plays Wilson Fisk in "Daredevil."
Apparently, the 24-year-old is quite the actress in her own right.
YES, SEAN PENN! YES!
Shout out to Sean Penn and Leila George; I hope they live happily ever after.
Citations: Sean Penn, 56, Is Dating Vincent D'Onofrio's Hot 24-Year-Old Daughter, Leila George, So That's Cool (BroBible)