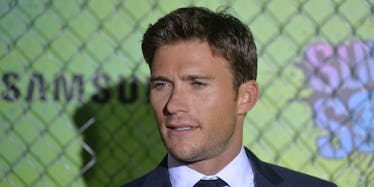 Scott Eastwood Talks About The Pain Of Losing His Girlfriend In A Car Crash
REX/Shutterstock
Scott Eastwood recently opened up about a tragic event in his life: the sudden death of a girlfriend.
The 30-year-old "Fast 8" and "Suicide Squad" actor sat down with GQ Australia and talked about his career, his family and something he's "never told anybody" before — losing his girlfriend in a car accident.
The tragic story came unexpected to both readers and the interviewer himself.
GQ contributor Adam Baidawi described the question that prompted Eastwood to open up — "When was the last time you cried?" — as a "pre-packaged question you ask everyone, just to see if you get a bite."
Eastwood replied,
I dated a girl a couple of years ago who died in a car accident. The fucked up thing is, it was a fender bender, and there was a recall on airbags. Her airbag exploded. It shot a projectile through her body. It split her spine, and um... I've never told anybody that. I've lost friends before; I've lost some great friends. But, I had never lost someone I had been really intimate with, you know, like in that way, in a relationship. I think that really affected me in a way that... I don't know. Maybe it's made it harder for me to date.
The interviewer, seemingly thrown by such a heavy confession, did not press the issue.
The interview concluded, but not before Eastwood added he couldn't bring himself to reach out to the woman's family.
Eastwood said,
I still never called her father. I still haven't found the right words.
Citations: Scott Eastwood Opens Up About The Death Of A Former Girlfriend (Refinery29)