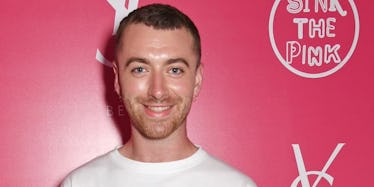 Sam Smith Is Going To Drop New Music For The First Time In 2 Years "Very Very Soon"
Getty
It wasn't too long ago that Sam Smith was pretty much ruling the world of pop music. Back in 2015, he cleaned up in terms of prestigious awards, taking home an Oscar and four Grammys, including the big win for Song of the Year, and his smash single "Stay With Me" was absolutely ubiquitous. But at the height of his success, Smith basically disappeared for two years. He's about to make his comeback, though. A new Sam Smith music video is on its way incredibly soon, the singer let his fans know on Thursday.
Sam Smith surprised music lovers everywhere when he broke his long professional silence to announce he will be releasing new music "very very very very soon." Yes, that's four "very"s — I wouldn't be surprised if a new single and video is on its way as early as this week! Smith shared the news in a personal post on his Instagram, thanking his fans for waiting so patiently for so long for him to put out a new track. He also teased that he poured his heart and soul into his new record, and he's both excited and scared to share it with the world very soon. Check out the letter from Sam Smith below.
This would be Sam Smith's first release in nearly exactly two years, when his Oscar-winning song for the James Bond movie Spectrum, "Writing's on the Wall," was released in September of 2015. Earlier this year, Metro UK reported that Smith's sophomore album would be due out this September, and it would be titled TPH-50HR, which is a reference to the house he grew up in (The Pink House, 50 Heydon Road). Because of the predicted album release date, we might be getting a full album drop from Smith all at once, à la Beyoncé's Lemonade. You've been warned, Sam Smith fans!