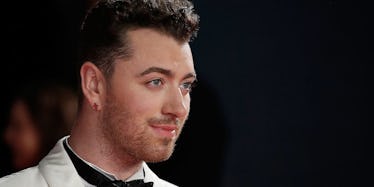 This Mysterious Billboard From Sam Smith Reveals When New Music Is Coming
Getty Images
This is not a drill. New Sam Smith music is coming after two years, and it's coming really soon. Smith posted an Instagram in the early morning hours of Friday, Sept. 1 that gave us a huge clue. The picture shows a London billboard with Smith's face, a Spotify logo and the date Sept. 8. But now, the question is, what is Sam Smith releasing on Sept. 8? Is it a single? Is it a full album. WE NEED TO KNOW!
On Thursday, Aug. 31, Smith gave us the first clue that we'd be getting new music with a letter he wrote to fans and posted to his social media pages. The letter reads,
To my beautiful fans, First of all I want to say thank you. Thank you for being so patient and for letting me have the past year to really escape into my mind & write music so freely. I feel so rejuvenated and have so many stories I can't wait to tell you. I have missed you all desperately, and a day hasn't gone by when I haven't been looking at all your comments & dreaming of singing with you all again. The wait is nearly over. Something is coming very very very very soon. I am scared & excited at the same time. I've poured my soul and heart into this record. Love you all, and see you in the not so distant future.
Did you catch that? "I've poured my soul and heart into this record." So, maybe we'll be getting the full thing in just one week? Only time will tell.
This will be the first time we're hearing new music from Sam Smith since Sept. 2015, when he released "Writing's On The Wall" for the James Bond movie Spectrum. That song ended up winning an Oscar, too. Killer. Smith's last album In The Lonely Hour was released in 2014.
Now, let's all wait patiently (read: not patiently at all) for this new music. Can't wait, Sam.