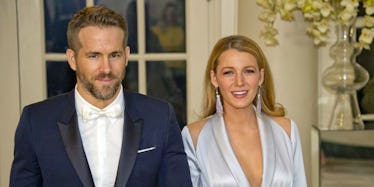 Ryan Reynolds May Have Spilled The Beans On The Sex Of Baby Number Two
REX/Shutterstock
I can't count the amount of times I have used Twitter and accidentally let something I was supposed to keep hush about slip...
Like that time I reminded everyone of the surprise birthday party -- while forgetting the person the party was for also followed me.
Or that time I absentmindedly tweeted all of my plans to break into the Pentagon. Whoops! My face was really red after that one.
What I'm saying is, Ryan Reynolds, you have to be careful what you tweet!
Because you may or may not have revealed the gender of your second baby through one careless 140-or-less-character joke.
While it's no surprise that Ryan Reynolds is hilarious, as per usual, what is surprising is he said "daughter's crib."
Daughter's. Crib.
Of course, the actor could be referring to his first child, his daughter named James...
But why would she still be in a crib when she was born in December of the year of our Lord 2014?
If a child is almost 2 years old -- and I, of course, am speaking from zero experience as I have no children (that I know of) -- shouldn't they be moving on up to a big girl bed?
I don't want to rush James out of her crib, but her little brother or sister is gonna need a place to sleep.
Though I'm sure Ryan Reynolds and his wife Blake Lively could probably afford to buy a second crib...
The two private parents welcomed their second child in September after Lively gave birth at a Manhattan hospital. Taylor Swift even paid them a visit.
Just a few days after giving birth, Lively went to her best friend's wedding at the Tribeca Rooftop in New York. She was only there briefly, but the mom of two had to send her bestie some good luck wishes.
So sweet!
What do you think of Ryan's tweet? Is it a low-key way to say, "Hey, we have two daughters," or nah?
Citations: Did Ryan Reynolds Just Reveal the Sex of Baby No. 2 With Blake Lively? (E Online)