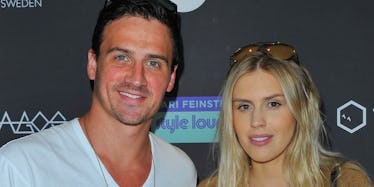 Ryan Lochte's Son Was Born And His Name Is Seriously Adorable
Lily Lawrence/Getty Images
Ryan Lochte is a dad, fam!!!
The Olympic swimmer announced today that his fiancée, Kayla Reid, gave birth to their son earlier this morning.
He made the announcement on Instagram, saying he had "never seen a miracle happen before."
The image read,
Never seen a miracle happen before. Until this morning at 5:46 am when CAIDEN ZANE LOCHTE was born. 7lbs 14oz, 22 inches. can't stop crying from tears of joy. Dream come true!
He captioned the post,
Caiden Zane Lochte. I'm a daddy #miracle #babyboy #myson
Caiden Zane Lochte, how cute!! Congrats to the new mama and daddy!
According to BabyCenter.com, Caiden is a Welsh name that means "battle," and Zane is a Hebrew name that means "God's gracious gift." WOW, INTENSE NAME. I guess they really want to set Caiden up for success in life.
But I kind of can't help but laugh a little at the fact his name is so contradictory. "Caiden! Go battle, God's gracious gift! IT IS YOUR DESTINYYYYY!"
Sorry, I'll shut up now.
Ryan and Kayla announced they were expecting a baby in the most Ryan Lochte way imaginable back on December 14, 2016.
He and his fiancée took to the pool to create an underwater announcement, and it was seriously precious.
He captioned the post,
My Christmas gift came early this year, can't wait for next year! Best news I've ever received #CLOUD9 #excited #family #love #2017
Kayla also posted her own underwater photo, but she made sure to include her face in it.
She captioned the post,
Just when you think you think you have it all figured out, life always surprises you with blessings when least expect it. So excited to share this news with all of you! #weareprego #omg #2017
Congratulations on your new bundle of joy, Ryan and Kayla!!! If it wasn't a water birth, I'm sure Ryan requested a kiddie pool in the hospital room so he could start Caiden off early.