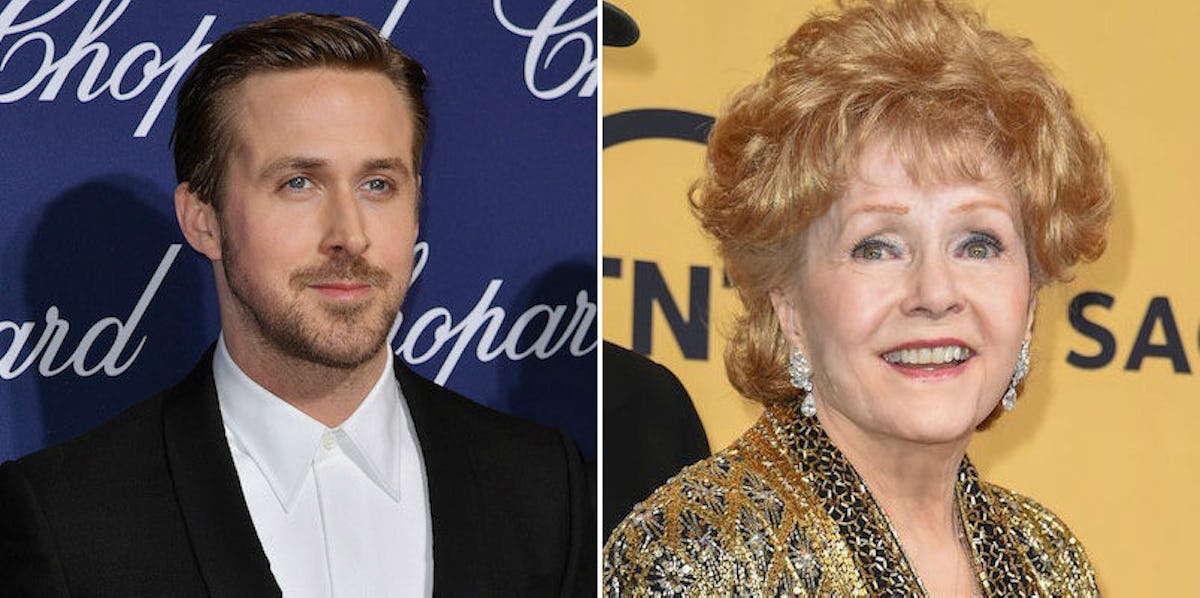 Ryan Gosling Thanks 'Unparalleled' Debbie Reynolds For His 'La La Land' Win
REX/Shutterstock
Acting legend Debbie Reynolds died last Wednesday at the age of 84, but her legacy lives on through the many artists she inspired.
One such artist is Ryan Gosling, who, at the Palm Springs Film Festival on Monday, profusely thanked Reynolds for her inspiration for his recent work in "La La Land."
As Gosling and "La La Land" director Damien Chazelle accepted the Vanguard Award, the 36-year-old actor credited Reynolds work in "Singin' in the Rain" as a major influence for their modern-day musical.
Gosling concluded his acceptance speech by saying,
I wish I could've said this in person, but I'd like to thank Debbie Reynolds for her wonderful career of work. She was an inspiration to us every day. We watched 'Singin' in the Rain' every day for inspiration, and she was a truly unparalleled talent. Thank you to her for all of that inspiration.
The 1952 Hollywood musical "Singin' in the Rain" was Debbie Reynolds' first leading role. She played Kathy Selden, the chorus girl who captures Gene Kelly's heart.
It's easy to see the classic film's influence on Gosling's character in the 2016 musical film "La La Land."
In "Singin' in the Rain," Reynolds, working as a chorus girl who pops out of a cake, gets humiliated in front of Kelly.
In "La La Land," Gosling's character, a pianist, gets humiliated in front of Emma Stone while he is working a gig that forces him to play the keytar.
And of course, it's impossible to have a tap dance number in the street without invoking "Singin' in the Rain."
Debbie Reynolds died following a stroke on Wednesday, just one day after her daughter, "Star Wars" actress Carrie Fisher, died after suffering cardiac arrest at age 60.
Todd Fisher, Reynolds' son and Carrie Fisher's brother, told the Associated Press losing a daughter was "too much" for Reynolds.
He said she "wanted to be with Carrie."
Celebrities and people around the around have been mourning the loss of the two legendary entertainers.
Their legacy will not be forgotten.
Citations: Ryan Gosling Tributes Debbie Reynolds at Palm Springs Film Festival: 'She Was an Inspiration to Us Every Day' (Entertainment Tonight)