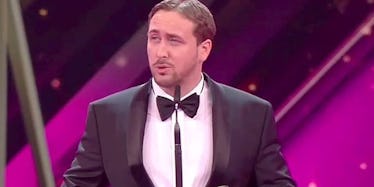 Fake Ryan Gosling Accepts 'La La Land' Award, Audience's Reaction Is Priceless
YouTube
Believe it or not, it hasn't even been a full month since the birth of #EnvelopeGate, when "La La Land" was accidentally presented the award for Best Picture instead of "Moonlight."
That didn't stop a German awards show from pulling another awkward stunt involving "La La Land."
Unfortunately, Ryan Gosling couldn't physically be at the Goldene Kamera awards to accept an accolade for the film. Comedians Joko Winterscheidt and Klaas Heufer-Umlauf had a brilliant idea to bring Gosling to the stage regardless.
They hired a Ryan Gosling impostor to accept it instead. Genius!
Host Steven Gaetjen announced,
The directors couldn't be here today, but someone else agreed to take the award and we are very happy that he is here today, because he is the reason this movie is a success. One of the hottest stars in Hollywood … Here is the one and only Ryan Gosling!
At that moment, a Gosling look-alike walked out on stage as the crowd grew more and more confused by the second. Nicole Kidman found it to be pretty funny, but Colin Farrell looked kind of annoyed.
Check out the funny moment a Ryan Gosling impostor accepted an award for "La La Land" at a German awards show.
Honestly, that was pretty fucking hilarious. Lighten up, Colin!
At the same time, though, I totally get where his straight-faced expression is coming from. It hasn't even been a month yet since "La La Land" was accidentally presented the award for Best Picture instead of "Moonlight," which actually won.
In other words, it still might be too soon...
Hey, look at the bright side. At least, we can all laugh about it now (unless you're Colin).
According to DailyMail.com, the Ryan Gosling impostor is actually a cook from Munich named Ludwig Lehner. Ludwig, thanks for the laughs, but you're lucky you were in Germany.
If that would have happened on a stage in America, you might've been body-slammed by Dwayne "The Rock" Johnson.
Citations: Hoaxer convinces live German TV show he is Ryan Gosling and goes on stage to accept La La Land award as stars including Nicole Kidman and Jane Fonda look on in horror (DailyMail.com)