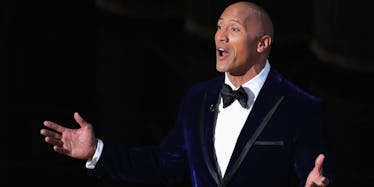 Dwayne Johnson Was Ready To 'Take Down An Oscars Producer' During Mix-Up
REUTERS
Dwayne "The Rock" Johnson is one celebrity you do not want to mess with.
If you grew up watching his electrifying work in the WWE or any of his Hollywood films, that's all the proof you'll ever need.
Speaking of Hollywood, Johnson was one of the many celebrities whose epic reaction was captured on camera during the Best Picture fiasco at the Oscars.
Let's just say he did NOT look happy in that moment. His telling facial expression left many of us wondering what exactly was going through his mind.
All that was missing was the legendary eyebrow raise.
Now, Dwayne Johnson is speaking out about exactly how he was feeling when "La La Land" was accidentally presented with the award for Best Picture instead of "Moonlight."
If I remember correctly, it went a little something like this...
Oscars producers, your lives were spared that night!
Johnson recently took to Instagram to discuss the Oscars blunder, saying,
You can literally see my wheels spinnin' on whether or not I should hit the stage and take down an Oscars producer who I thought went rogue and was trying to sabotage our final moment of the night as La La Land was accepting for Best Picture.
If you take a good look at the photo he's referring to, you can clearly see him sizing up a potential "Rock Bottom" victim on stage. It's too bad the cameras were rolling.
Johnson added,
Seconds before this I saw out of the corner of my eye, the producer saying loudly, 'NO IT'S MOONLIGHT, the winner is MOONLIGHT!' as he walked up onto the stage.
Just know The Rock was seconds away from getting up and laying the smackdown on the culprit.
According to his Instagram post, if it weren't for his girlfriend Lauren Hashian holding him back, he would have done it.
Here's The Rock's full Instagram post about being ready to "take down an Oscars producer" after the Best Picture flub.
It's safe to say things could have gone a lot worse at the Oscars if the people's champ would have gotten involved.
Thanks to Jordan Horowitz's graciousness, Johnson didn't have to "rumble over" Meryl Streep. You can exhale now, Oscars producers!
Citations: Dwayne Johnson Explains His Epic Reaction to the Best Picture Mix-Up (TIME)