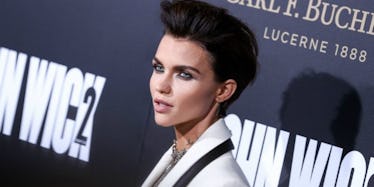 Ruby Rose Reveals When Her Mom Realized Her Daughter Was A Lesbian
REX/Shutterstock
Even if you have completely accepting family and friends, it's still scary to come out of the closet as a member of the LGBTQ.
Despite knowing in my heart of hearts that my parents would be totally accepting and love me, and whoever I chose to marry later in life, I was scared shitless. But you do find yourself when you come out.
I was 20 when I came out. Ruby Rose was 12.
The "Orange Is the New Black" star recently told how she came out to her mom on the upcoming episode of NBC's "Sunday TODAY with Willie Geist."
At all of 12-years-old, Rose told her mother she was attracted to women.
To her surprise, her mom responded with "I know."
Rose said:
When I told her, she was like, "I know." She knew when I was six apparently. I was like, "Really, mom," I don't even think I knew then. I didn't think it was possible. Apparently it is and it makes sense.
"I know" is a totally adorable way to handle someone you love coming out of the closet.
That's what my brother said when I came out, and I was disappointed. Like, really?! Where was the drama?! Didn't he have any questions!?
But the fact that her mother knew when she was just six-years-old proves that mother does know best.
Rose continued:
I was just worried because I didn't know it was a thing. I knew how I felt and what I kind of identified as, but the words gay or lesbian… I didn't know anyone else that was gay or a lesbian. So I didn't really know how to word it. So I was just like, "I think I should let you know that when I eventually get a boyfriend, they'll be a girl." And she was just like, "I know."
A+ mom, that's the way to handle it.
Apparently, her mom knew when she witnessed her daughter decapitating Ken dolls and disliking Barbies -- but plenty of children do that.
The full interview will air this Sunday.
Citations: Ruby Rose's Mom Had The BEST Reaction To Her Coming Out! (Perez Hilton)