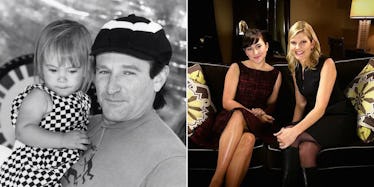 Robin Williams' Daughter Is Doing Amazing Work To Carry On His Legacy
Robin Williams may have tragically died six months ago, but his spirit lives on through his daughter, Zelda.
In an interview with NBC -- Zelda's first since her father's death -- the 25-year-old spoke about her father's memory, his passion for humanitarian and charity work and the difficulty of loss itself.
According to host Kate Snow, Zelda is committed to continuing the charity work that Williams invested in.
She remembers her father as an "incredibly kind and incredibly caring man," and says,
He's done charity work as long as he had the wherewithal and the ability to do it. That was what his favorite thing other than comedy really was.
On Friday night, to celebrate his legacy, Zelda will present a "Noble Award" to honor her late father and his team at the Challenged Athletes Foundation, his favorite charity.
He ran a triathlon with athletes at the foundation every year, and they remember him fondly.
The money from the awards ceremony, according to Snow, will be used to begin the Robin Williams fund, a charity focused specifically on helping athletes with disabilities.
We couldn't imagine a better way to commemorate the late actor and humanitarian.
If you're interested, the second portion of the interview delves more into the actuality of loss, including how Zelda herself -- as well as Robin Williams' fans -- are mourning the loss.
See both segments in their entirety below:
Citations: Robin Williams daughter Zelda on life without dad continuing his charity work (Today)