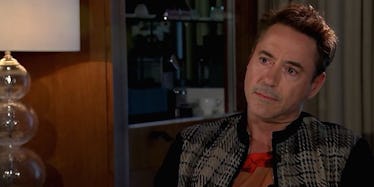 Robert Downey, Jr. Walks Out Of Interview After Question About His Past (Video)
It's no secret actor Robert Downey, Jr. had a long fight against drug addiction that led to arrest and a myriad of personal problems.
But when the actor signed up to promote his new film, he wasn't about to field probing questions from inquisitive journalist Krishnan Guru-Murthy – best known for memorably infuriating Quentin Tarantino during a 2013 "Django Unchained" interview.
During a recent interview promoting "Avengers: Age Of Ultron," Downey became visibly frustrated by Channel 4 News's Guru-Murthy hesitantly asking about his history with drugs.
Without a second thought, the actor flashed his trademark smile and walked out.
Stick to the "Avengers" next time, Guru-Murthy.
Downey was not having it with Guru-Murthy's probing questions.
The journalist later tweeted about the event, seemingly unfazed.
Oh dear. Abrupt end to our Robert Downey Jr interview when we started talking about jail and drugs. #walkout #c4news pic.twitter.com/NKz9HkAnZk — Krishnan Guru-Murthy (@krishgm) April 22, 2015
According to him, all the interview questions had been previously approved by Downey's team.
@SammiRobinson we did discuss it, explicitly, with his PR — Krishnan Guru-Murthy (@krishgm) April 22, 2015
Citations: Robert Downey Jr walks out of awkward Channel 4 interview after drug questions Read more: http://www.digitalspy.co.uk/british-tv/news/a643454/robert-downey-jr-walks-out-of-awkward-channel-4-interview-after-drug-questions.html#ixzz3Y48x1Pu0 Follow us: @digitalspy on Twitter | digitalspyuk on Facebook (Digital Spy)