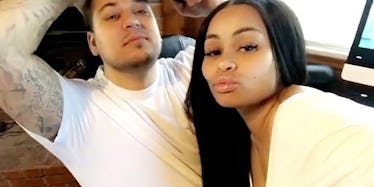 Rob Kardashian's Family Reportedly "Very Disappointed" In Him For Blac Chyna Drama
Snapchat
According to E! News, it looks like Rob Kardashian's family is not happy he leaked naked photos of Blac Chyna on Instagram and went on a social media rant about their relationship.
Elite Daily reached out to Kris Jenner's team for comment on the reports but did not hear back in by the time of publication.
On Wednesday, July 5, Kardashian posted several naked photos of Chyna without her permission on Instagram. He also posted a video of her kissing another man, and claimed she allegedly cheated on him, used him for money, abused drugs and alcohol, and was an unfit mother.
Elite Daily also reached out to Blac Chyna's and Rob Kardashian's teams for comment on the social media posts but did not hear back by the time of publication.
A source reportedly told E! News "the entire family is very disappointed in Rob's actions yesterday." The source claimed, "All of the sisters are trying not to react publicly, and are trying to brush it under the rug."
According to the outlet, Kris Jenner is the most upset with Rob's rant about Blac Chyna.
E! News' source added,
She is very distraught. Kourtney Kardashian is in her own world on vacation, and Khloé Kardashian is in her own world with [boyfriend] Tristan Thompson. Although the family has never been a fan of Chyna, they want what is best for Dream. The family is trying to focus on the positive things going on in their lives and hope that Rob will calm down and stop airing dirty laundry. The family is upset and thinks that Rob's actions were inappropriate.
Yeah, makes sense. Every one of Rob's sisters, including Kim, Khloé, Kourtney, Kendall and Kylie, all have posted on social media following Rob's rant. However, none of his family members have directly addressed the drama.
Kim Kardashian, for example, took to Snapchat to share a KKW Beauty contouring tutorial. Kylie Jenner posted selfies of her "adventure," and Kendall Jenner showed off her new i.am+ buttons. Lol.
Clearly, this family is doing whatever it can to brush over the drama and redirect the focus onto their careers. No one has time for Rob Kardashian's BS – not even Kris Jenner.