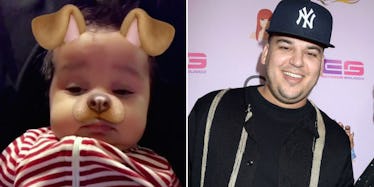 Rob Kardashian Posts Cute New Video Of Dream And She Looks Just Like Him
Snapchat/REX/Shutterstock
Recently there has been a lot of scandal surrounding Rob Kardashian and Blac Chyna's relationship -- maybe it's because Chyna has a child with her sister-in-law-to-be's boyfriend.
Or it could be that every time someone leaks Chyna's messages, she is being extra shady.
Either way, for a while the public was metaphorically holding their breath to see if Chyna and Rob's baby would actually come out looking anything like Rob. (I personally was hoping for her to look like Scott Disick --  what a season finale that would have been!)
Much to my chagrin, baby Dream looks identical to Rob Kardashian, round cheeks and everything.
And last night, he posted a video on Instagram of her in his lap, looking incredibly adorable with the dog ears Snapchat filter and candy cane-striped pajamas.
Behold the beautiful Dream Kardashian, Rob's most successful product.
This post is hilariously juxtaposed with Blac Chyna's Instagram posts of her night out in Las Vegas hosting a party at the notorious nightclub 1 Oak.
Once she arrived, she was apparently presented with larger than life pictures of her family to keep her company. And although her smile says, "Aw look at those cute cutouts," her eyes say, "Wtf are these, I am trying to get lit."
Much of the speculation around Rob and Chyna's relationship points to a completely fake relationship, planned by Blac Chyna so that she could make money off the Kardashian name.
Chyna repeatedly denies these claims, but also simultaneously feeds into them, by deleting everything about her family, like, once a month.
No one knows for sure, and it honestly does not matter.
Because something that is definitely not fake is the precious 2-month-old baby they have to raise.
So for the sake of the lovely little Dream Kardashian, please get it together Rob and Chyna.