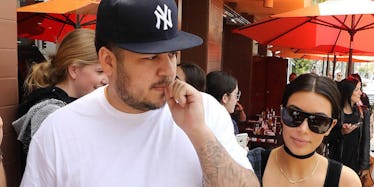 Rob Kardashian Finally Opens Up About Why He Skipped Kim And Kanye's Wedding
REX/Shutterstock
Why did Rob Kardashian skip his sister Kim's wedding to Kanye West?
Because he wasn't feeling too great about himself and didn't feel like having a million cameras shoved in his face. Seems pretty reasonable to me.
Rob recently opened up about his years of seclusion in an interview with PEOPLE. He spent nearly two years avoiding the cameras, he gained 100 pounds and many speculated he had turned to drug use.
Then in 2014, Kim Kardashian got married to Kanye West. Rob followed the rest of his family out to Paris, but then didn't make it to either the rehearsal dinner or wedding in Italy.
Why? He didn't feel comfortable with his weight.
Rob said,
I was doing my suit fittings in Paris right before the wedding and I just wasn't comfortable. I'm 6'1" and at my most I probably weighed 300 lbs. There were cameras at the airport on our trip there and I was very unhappy with the person I saw in all the pictures. I'm upset I missed my sister's wedding but it was a personal decision.
Man, the poor guy couldn't even get out of the airport without having his photo taken.
Can you blame someone who's feeling insecure about his body for not attending the most heavily photographed event of the decade?
It wasn't just the wedding Rob hid from — he also said he missed "Christmases and birthdays and vacations."
Now Rob's feeling a lot happier with himself and he's back in the public eye, which he says is all thanks to Blac Chyna.
I guess true love/revenge plots really can turn your life around.
Citations: Why Rob Kardashian Skipped Kim and Kanye's Wedding – and Became a Recluse (PEOPLE)