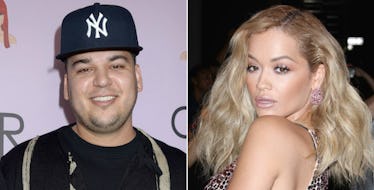 Rob Kardashian Shaded Rita Ora On 'Rob & Chyna' And Twitter Lit Up
REX/Shutterstock
Poor, poor, Rob Kardashian.
We've been given an inside look into the secret life of the 29-year-old star, and it's been kind of sad.
On the past two episodes of "Rob & Chyna," I've learned some things about Rob I kind of wish I didn't -- like how he really wanted a baby boy but is having a girl instead. Oops?
Or how he's battling a lot of self-esteem issues because of his weight. Or how one of his ex-girlfriends cheated on him so he has trouble with trust.
It's been a lot to take in and makes you think about how fame affected Rob differently than the rest of his family.
But after last night's episode, it seems like Twitter can't stop talking about one thing.
In a clip of the show, Rob threw major shade at his ex Rita Ora. Yup, it happened.
He explained,
I had a really bad past relationship where the girl was cheating and having sex with so many different people.
Oh shit. Well, it's public knowledge Rob dated Rita Ora AND "Cheetah Girl" Adrienne Bailon.
But remember, Rob accused Rita of cheating on him several times in the past.
So when he referenced one of his exes on the show, Twitter immediately knew what was up.
Every time Rob mentions his ex Rita Ora #RobAndChyna pic.twitter.com/DD7Y58tvR3 — A_R_I_E_S (@Moni_gurl) September 19, 2016
Shots fired!
Back in 2013, Adrienne Bailon spoke out about her relationship with Rob on "The Real" and revealed Rob actually cheated on her.
Hmm, the irony.
Neither Rita Ora or Adrienne Bailon have commented on last night's episode, but I'm sure both were watching from home.
YIKES.
Citations: Rob Kardashian Ex-GF (Us Weekly), Rita Ora Cheating On Rob Kardashian (Daily Mail)