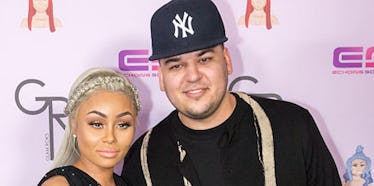 People Are Pissed At Rob K For Posting Beyoncé Memes After Leaking Blac Chyna Nudes
Greg Doherty/Getty Images
Rob Kardashian is going nuts on his Instagram account, and his crazy rant just took a turn.
This morning, July 5, Kardashian began posting a series of nude photos of his ex Blac Chyna after he allegedly learned she cheated on him. Now, he is comparing himself to Beyoncé and claiming he is going to make a Lemonade album.
Rob, that's not how it works.
Elite Daily reached out to Kardashian and Chyna's team for comment, but did not hear back by time of publication.
After posting a series of nude photos followed by long chunks of text, we've gathered a few things.
Mainly, Kardashian feels strongly that Chyna used him for money, slept with multiple men, and also allegedly abuses drugs and alcohol.
To be clear, posting these private photos qualifies as revenge porn, and could leave Rob in trouble with the law.
However, he does not seem to be worried. In one post, he wrote,
I'm a savage and I always have been and I always will be and I don't give a f*ck. All u may think my daughter may see this one day and I hope she does cuz this isn't love. I never want my daughter to be raised by a woman like Chyna who cheats and does drugs and alcohol with my baby in the house.
He also posted the following message, "I'm making a lemonade album for sure this year !!"
Rob, this isn't funny.
Kardashian seems to be out of touch with the severity of the situation, and creating a fake Lemonade album cover is just one example of how he seems to be making light of it all.
Commenter pinkshei21Dude wrote,
stop embarrassing yourself and your family. Get yourself together. Your daughter will be reading about all your nonsense in a few years.
Another, ibethelola, said,
Rob, you should have listened to your sisters man!!! Now stop being stupid and go get helped by your family
Twitter is also having none of this nonsense.
In response, Chyna posted an extremely upsetting message on her Snapchat, accusing Rob of physically assaulting her in the past.
Nothing about this is a laughing matter, and we hope both Rob and Chyna find the support they need at this time.