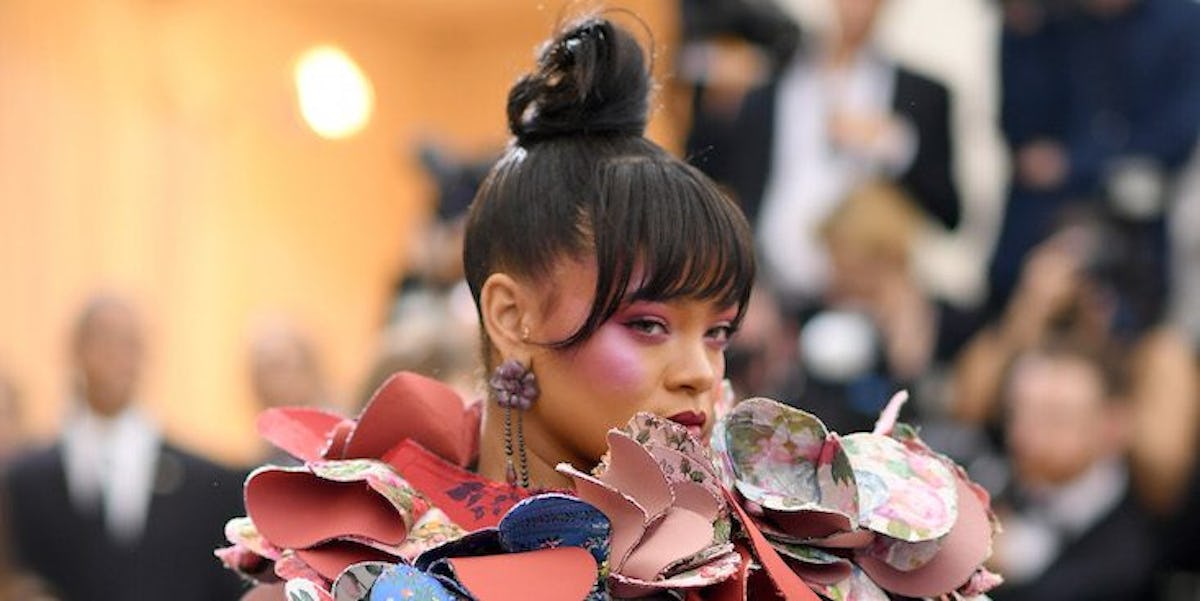 Rihanna Low-Key Threw Shade At Selena Gomez And Kim Kardashian On Instagram
Getty Images
Throwing shade is about the only thing Rihanna does low-key.
She certainly doesn't do fashion low-key, and why should she?
The 29-year-old singer has always made a statement at the Met Gala, and this year's eye-catching look was no exception.
RiRi turned heads at the Metropolitan Museum of Art on Monday night in a fantastical ensemble that stayed true to the theme of the night, which was a celebration of the Costume Institute's "Rei Kawakubo/Comme des Garçons: Art of the In-Between" exhibit.
Rihanna's architectural creation actually came straight off the Comme des Garçons Fall 2016 runway. So, yeah, theme? Nailed.
But how did the rest of the competition stack up? Well, at least according to the internet, they fell way short.
On Tuesday, a meme was posted to Instagram calling out the more classically dressed Met Gala attendees who opted for flattering silhouettes and muted tones over the avant-garde theme suggestion.
And it appears Rihanna couldn't agree more with the subtle shade the internet threw because she reportedly liked the post, which is now littered with comments that not-so-subtly shame specific celebrities -- like Kim Kardashian and Selena Gomez.
They say a photo is worth a thousand words, but I'd argue a "Like" is worth about the same in today's internet culture.
While Rihanna sat and even posed for a photo with Kim, don't think she wasn't silently side-eyeing everyone's boring ensemble.
In her notes for the exhibition, Rei Kawakubo, the designer behind Comme des Garçons, remarked,
What I've only ever been interested in are clothes that one has never seen before, that are completely new, and how in what way they can be expressed. Is that called fashion? I don't know the answer.
It seems Rihanna and Kawakubo feel similarly when it comes to fashion. Perhaps next year people will take a few notes from Rih and be a bit more bold.
Citations: Rihanna Just Threw Shade at Everyone Who Didn't Follow the Met Gala Theme (Cosmopolitan)