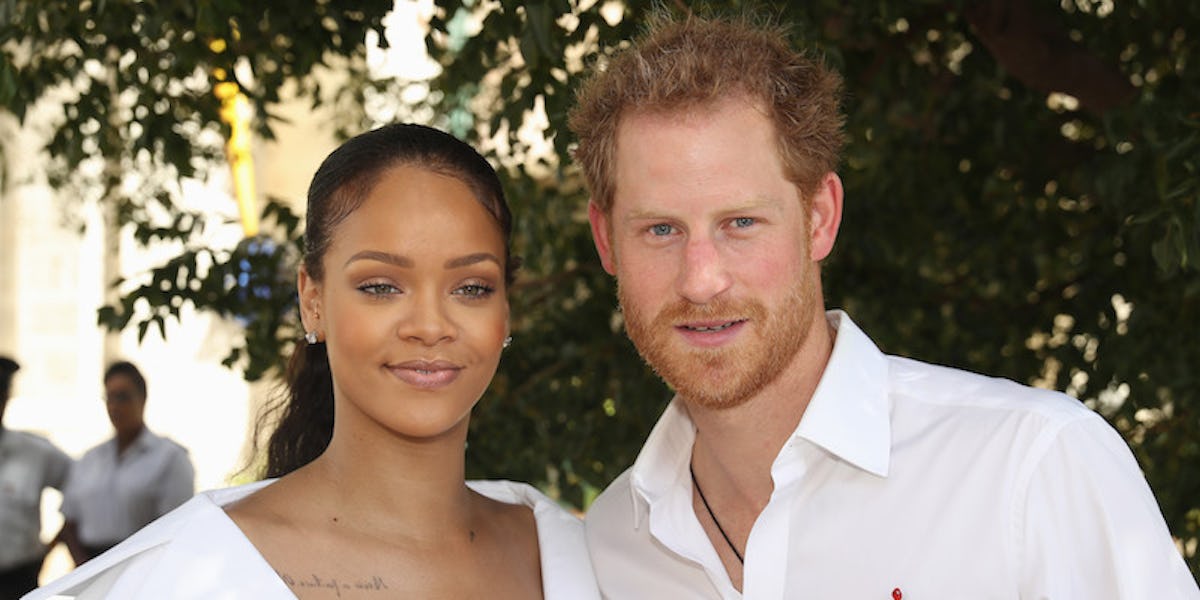 Rihanna Dissed Prince Harry For Being A Total Wuss Over Needle Freak-Out
REX/Shutterstock
Is it me or have Rihanna and Prince Harry been getting awfully close lately?!
Well, maybe not in the romantic way you might hope, but they've definitely spent some time together this week.
Prince Harry finally met Rihanna on Wednesday at the Toast to the Nation event celebrating 50 years of independence in Barbados.
After fans realized how perfect they were for each other, people began hoping and wishing for them to date. I'm sure Drake isn't happy about that one... But he has Taylor Swift -- he'll be fine!
The SECOND time Prince Harry and Rihanna hung out was on Thursday. The two celebrities were filmed for the Man Aware campaign on World AIDS Day.
What I'm trying to say is that Prince Harry and RiRi took an HIV test together. I know, super romantic, right? Well, it's very necessary, people!
The best thing about this particular star-studded HIV test is that the entire thing was captured on camera -- even the part when Rihanna dissed Prince Harry because he was acting like a wuss over the sharp needle used in the process.
If you watch the video, you'll notice that Harry was pretty tensed up just before he was pricked with the needle. He said,
It doesn't matter how many times [you] do it, it still hurts.
Initially, Rihanna agreed with Harry that needles hurt regardless of how many times you're stuck with them.
However, when it came time for the 28-year-old star to face the needle, Harry's short tolerance for pain was EXPOSED.
Rihanna reacted, saying,
That was not bad! You really made it seem like it hurt!
She's so admirable... so strong.
Here's the video of Prince Harry and Rihanna taking an HIV test together. Harry can't take the pain!
Watch Prince Harry and @Rihanna test for HIV, to show how easy the process is #WorldsAIDSDay #RoyalVisitBarbados #ProTESTHIV pic.twitter.com/RfSvDX8vQ9 — Kensington Palace (@KensingtonRoyal) December 1, 2016
So, how did this whole thing even come about?
Prince Harry and Rihanna spoke to BBC News after the test. Rihanna jokingly said,
He sent his security... [they] just showed up at my place and dragged me out of bed, and here I am.
You gotta love RiRi's non-stop sense of humor! Harry then chimed in, revealing,
It's an opportunity that anybody in my position would have asked her to do.
Rihanna elaborated, explaining,
We just want to show people how easy it is... and how you shouldn't be afraid of knowing your status.
Get out there and get tested, people! #KnowYourself. (Sorry, Drake.)
Here's their interview with BBC News.
Look, at this point, I know you're still waiting for me to tell you that this dynamic duo is dating, but they're not.
If you knew anything about Prince Harry, you'd know that he confirmed just weeks ago that he's happily dating Meghan Markle! But I didn't say you couldn't dream...
Citations: Watch Rihanna Make Fun of Prince Harry For His Fear of Needles (Pop Sugar)