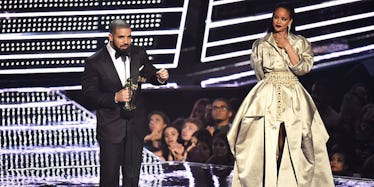 Rihanna Reportedly Has A New Boyfriend, So Everyone Is Roasting Drake On Twitter
Michael Loccisano/Getty Images
It looks like Rihanna has a new man in her life, so of course, Twitter just wants to talk about Drake!
Rihanna is reportedly dating 29-year-old Hassan Jameel, the heir to the Toyota fortune. The two were spotted making out earlier this week, Daily Mail reports.
Elite Daily reached out to Rihanna's rep for confirmation of the news, but did not hear back by time of publication.
Once the photos surfaced and the mystery man was identified as Jameel, Twitter just had to bring up Drake.
In case you somehow forgot, Drake and Rihanna dated basically all of last summer. In August, Drake publicly declared his love for RiRi while presenting her with the Vanguard Award at the VMAs.
He literally told the entire world he had been in love with Rihanna since he was 22 years old. I cried, you cried, we all cried.
But then in October, the two called it quits, and we all cried sad, pathetic, hopeless tears.
For a while, it looked like Drake was moving on with Jennifer Lopez, but that is clearly over now that JLo and A-Rod are all hot and heavy.
So it looks like Drake is single, and Rihanna is not, leaving Twitter to hit a man when he's down.
It's not helping things that the new guy, Hassan Jameel, is kind of a big f*cking deal.
According to Daily Mail, he is the deputy president and vice chairman of his family's company, Abdul Latif Jameel, one of the largest companies in the world.
The Jameel family owns the rights to Toyota, giving them a $1.5 billion net worth, Forbes Middle East reports.
Did you hear that, Drake?
There has been some speculation that Drake will drop an album later this year, so perhaps we'll get some good hits out of him watching Rihanna move on with a billionaire.
That was insensitive. Sorry, Drake.