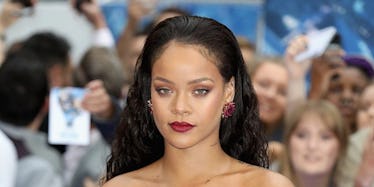 Rihanna Thinks Anything You Have To Say About Her Body Is Hilarious
Getty Images
Rihanna already proved to us that when it comes to her body, her very last concern is about what people think about her size. She's busy doing Rihanna things like killing red carpets with queen levels of cleavage, pool-dipping with a rich bae, and launching shoe lines with two different major brands. Amidst the ongoing conversations about her body size, she found the time to share just what she thinks about all the chatter by shutting down body shamers in the perfect way.
A fan page, @RobynsBish, posted a Snapchat video of Rihanna running through a convenience store with her best friend, Melissa Ford, collecting snacks for their day out.
The friend capturing the moment on video said,
You just walked in the store and in two minutes you already got four snacks!
Rihanna laughed it off and her bestie, Melissa, said,
You're judging her. Stop judging her!
The fan, @RobynsBish, reiterated Melissa's words with a caption that reads,
Everybody who calling rob too fat @mdollas11 telling you what to do in this video K !! #mindyourown#eatallyouwant@badgalriri i got you like melissa.
Basically, the fan wants the world to know that Rihanna can eat what she wants, be whatever size she wants, and basically just keep being the Rihanna of our generation with her legendary zero f*cks attitude.
The fan got the social media moment all "stans" dream of when Rihanna popped into the comments almost immediately with a very Rihanna co-sign.
She wrote,
Somebody called me too fat?
But the bad gal didn't just add her commentary. She also provided an exclusive image of how she feels about it all: three laugh-crying emojis.
In short, Rihanna DGAF about body shamers. In fact, she isn't even all that privy to what these body shamers are saying and when she finally gets a hint, it's just laughable nonsense.
Sigh. Don't you just love every atom that makes up Rihanna's being? Personally, I'm still tripping off that fact that she and I both eat Ruffles potato chips and that we both go into convenience stores to shamelessly grab a bunch of snacks that don't go together as a meal, yet still taste like heaven.
May Rihanna continue to be the inspiration for us all when it comes to dealing with social media trolls and shutting down body shaming culture altogether. Pay these trolls dust and live your life. Rihanna pun intended.