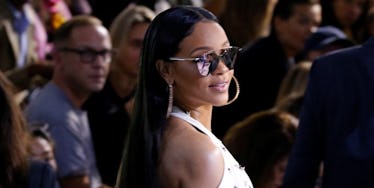 Rihanna Receives Major Humanitarian Honor At Harvard, Proves She's Got It All
REUTERS
Rihanna is getting an award from Harvard University, because of course she is.
The queen of all that is great is being recognized by Harvard not for her music, acting or general badassery, but, rather, for her humanitarian work.
She is receiving the award for 2017 Humanitarian of the Year. Rihanna will be presented with the Peter J. Grimes Humanitarian Award on the Cambridge campus next week.
So, just for the record, that means this month alone, Rihanna was on a TV show, won the Grammys (even if she didn't necessarily win the Grammys), received a humanitarian award from Harvard... and just turned 29. Feel like an underachiever yet?
There's more than enough reason for Rihanna to be receiving an award for her charity work.
S. Allen Counter, director of the Harvard Foundation, said in a statement that Rihanna was being honored for her work in Barbados and around the world. Counter said,
Rihanna has charitably built a state-of-the-art center for oncology and nuclear medicine to diagnose and treat breast cancer at the Queen Elizabeth Hospital in Bridgetown, Barbados.
Counter added the "ANTI" singer created the Clara Lionel Foundation Scholarship Program, which was named after her grandparents, to support students going to college in the US from the Caribbean.
Rihanna also supports the Global Partnership for Education and the Global Citizen Project, which provides children with access to education in developing countries, with priority given to girls.
The singer was in Malawi last month visiting with government officials, educators and students as part of her charitable work for education.
And the "Work" singer is in some pretty amazing company in receiving the Harvard Humanitarian Of The Year award.
Previous honorees include Malala Yousafzai, James Earl Jones and Secretaries General of the United Nations Ban Ki-moon, Kofi Annan and Boutros Boutros-Ghali.
She may have been snubbed by the Grammys this year, but at least someone is recognizing the incredible work Rihanna puts out for the world.
Citations: Rihanna Named Harvard University's 2017 Humanitarian of the Year (ET)