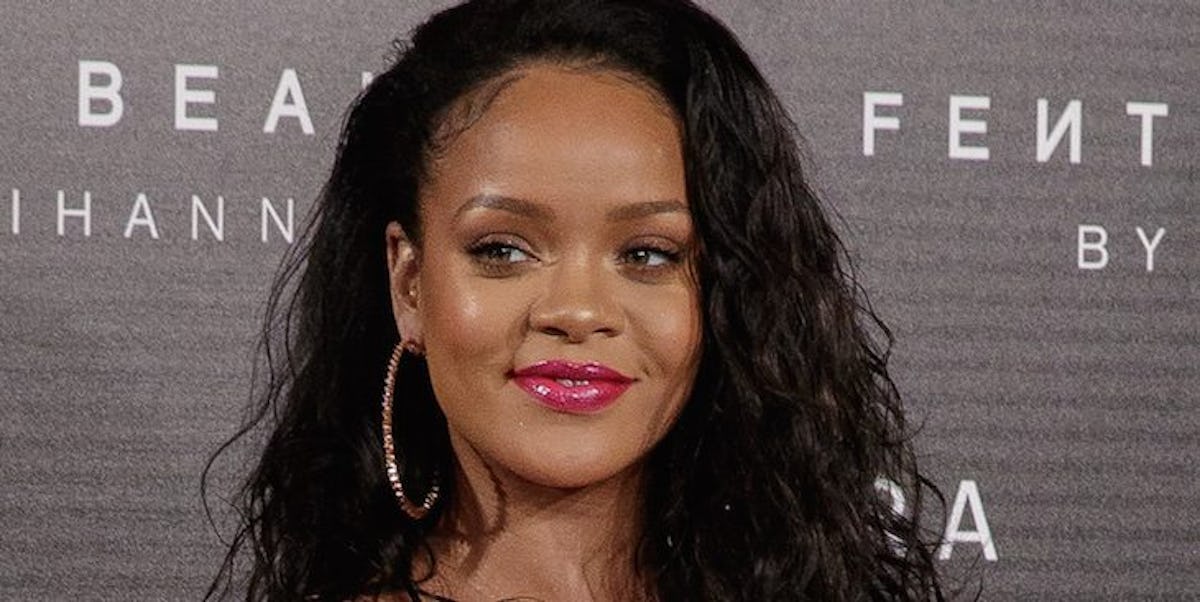 Rihanna Calls Out Trump For Puerto Rico Crisis: "Don't Let Your People Die Like This"
Eduardo Parra/Getty Images
Rihanna, like so many others, isn't happy with President Donald Trump's inability to get assistance to those in Puerto Rico affected by Hurricane Maria. Rihanna's tweets about Donald Trump show the singer is fired up and trying to educate the president about the immense devastation the island is facing. Her plea is heartbreaking but so important.
Trump has been tweeting mostly about NFL protests during the national anthem, with little mention of the need for disaster relief in Puerto Rico. The crisis there is devastating, as so many are homeless and without power, food, and potable water.
Rihanna kicked off her Twitter rant by writing: "@realDonaldTrump ????????"
The tweet linked to an Instagram video posted by The Shade Room, with the caption: "Here's an update on the citizens of #PuertoRico and their need for basic necessities such as food and water. #Swipe to view the current state of the island. #PrayForPuertoRico #PrayForTheCaribbean."
In the video, the situation in Puerto Rico was described as follows: "There's no water, there's no cash, the hospital is completely full, with no generators, so they have open windows. They cannot do surgeries, and I don't see this in the media. The person that called me has three kids, and has no water, and no one has given anything to them. They're holding shipments from here in the U.S. I just want you, if you see this video, to please forward it to a news outlet ... this is something that is still happening. This is the sixth day. People have no communication, no water, they have no food, because they cannot buy any food."
Rihanna continued the following day by tweeting a CBS News Video showing exactly what the people of Puerto Rico are facing. Did her tweet grab the president's attention? Maybe, maybe not. But it did catch the eye of many of her fans, who responded to her tweet.
One fan thanked her, tweeting: "Thanks for helping to bring attention to the 3.411 million Americans who need help! #PuertoRicoIsAmerica."
Another added: "Thank you for caring about this issue it's a humanitarian crisis fareal we need more artists to step up for PR."
Rihanna also tweeted a photo of a New York Daily News cover, writing: "Dear @realDonaldTrump I know you've probably already seen this, but I just wanted to make sure! Don't let your people die like this."
Earlier this week, on Sept. 25, Trump tweeted about the situation, writing: "Texas & Florida are doing great but Puerto Rico, which was already suffering from broken infrastructure & massive debt, is in deep trouble... It's old electrical grid, which was in terrible shape, was devastated. Much of the Island was destroyed, with billions of dollars... owed to Wall Street and the banks which, sadly, must be dealt with. Food, water and medical are top priorities - and doing well. #FEMA."
On Sept. 26, Trump tweeted: "Thank you to Carmen Yulin Cruz, the Mayor of San Juan, for your kind words on FEMA etc. We are working hard. Much food and water there/on way."
He added: "America's hearts & prayers are with the people of #PuertoRico & the #USVI. We will get through this - and we will get through this TOGETHER!"
Between tweets that mainly focused on the NFL national anthem protest, Trump tweeted this pat on the back: "...Virtually no President has accomplished what we have accomplished in the first 9 months-and economy roaring"
Many fired back at the president, with this chilling reminder about Puerto Rico and Trump's lack of response to the crisis:
Earlier today on Sept. 28, the president gave an update about Puerto Rico, tweeting: "The electric power grid in Puerto Rico is totally shot. Large numbers of generators are now on Island. Food and water on site."
Critics slammed him, with comments such as: "This is when haste mattered. You failed. This all should have happened a week ago" and "On site doesn't mean it's in the hands of the people. It's stuck where they can't get to it. How about sending military?"
Another added: "Wow... we are DEFINITELY not being taken care of. 44% of the island no power/water hospitals in crises and we have yet received FED help."
Hopefully, Rihanna and other celebrities can help raise awareness about the tremendous need for aid, but I'm willing to bet the president hasn't given RiRi's tweets any attention.
Check out the entire Gen Why series and other videos on Facebook and the Bustle app across Apple TV, Roku, and Amazon Fire TV.