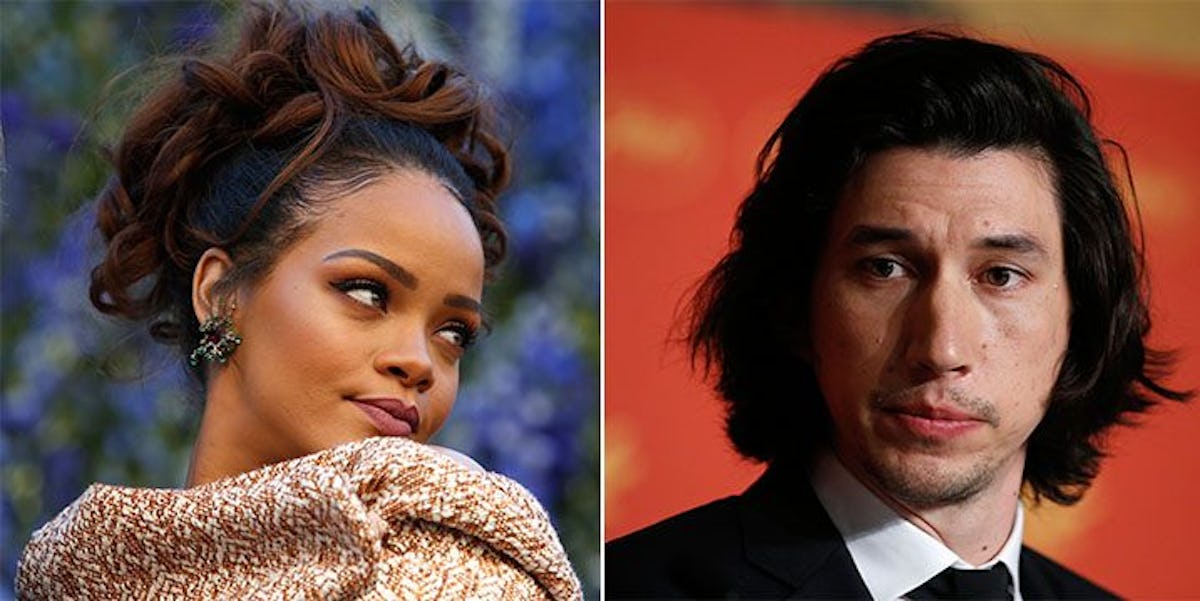 Rihanna And Adam Driver Are Set To Star In A Musical Together, So That's Weird
REUTERS
Hollywood: We just do musicals now.
The industry's next "La La Land" is in the works and fans can expect to see both Adam Driver and Rihanna triple-threat-ing their way across the screen this time around.
"Annette" is French filmmaker Leos Carax's English Language debut and features a script and music by '70s pop duo Sparks, MTV reports.
The rock musical follows a widower stand-up comedian raising his daughter who, according to Deadline, has "a surprising gift." (Fingers crossed it's Trump's post-2005 tax returns.)
Rooney Mara was originally slated to star opposite the "Girls" and "Star Wars" star Adam Driver, but dropped out due to scheduling conflicts. The film is still searching for its Emma Stone... but, you know, not like, actual Emma Stone.
Rihanna plays a small, yet undisclosed role in the film, and we all know precisely who will be first in line to see her nail it.
Last month, on RiRi's 30th birthday, ex Drake praised her to a crowd in Dublin before leading the audience in a rendition of "Happy Birthday" "Work."
He said,
It's somebody's birthday today — somebody I have a lot of love for and a lot of respect for. So, instead of singing 'Happy Birthday,' though, we just going to do this in Dublin. Instead of singing 'Happy Birthday,' we're going to set it off just like this…
Though the two split in October, it looks like nothing can stop Drake from loving Rihanna until his bones have faded to dust.
When will someone finally make a movie musical about Drake's pining? I will write the script if someone can commit to creating an original score.
Perhaps Drake himself is interested in bringing this tale of melancholy romance to the big screen. In fact, that delicious little bowl of Canadian poutine gets first refusal on this project.
You hear that, Drake? FIRST REFUSAL. I'll catch you in the DMs, baby.
Citations: MOVIES RIHANNA AND ADAM DRIVER ARE TAKING ON A MUSICAL TOGETHER (MTV)