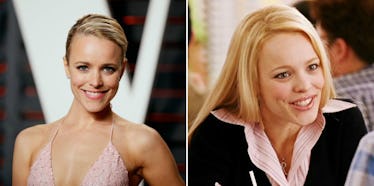 Rachel McAdams Is Up For A 'Mean Girls' Reunion, And It's Going To Be So Fetch
REUTERS/Paramount Pictures
Get ready to celebrate with some Kälteen bars because Rachel McAdams, aka Regina George, sat down for an interview with E! News and revealed she's absolutely down for a "Mean Girls" reunion!
How exactly is this super special reunion going to happen? HOW CAN WE MAKE IT HAPPEN?
Well, Rachel McAdams knows. The 37-year-old actress says she's on board to play a part in Tina Fey's "Mean Girls" musical.
Did anyone else just envision the entire production in their head? No? Just me? Cool.
Speaking with E! News' Marc Malkin, McAdams said,
Sure. Yeah! I mean, I loved doing that movie. I love Tina Fey. I love the girls ... We had a reunion for a photo shoot a couple years ago, and it was over like that [snaps fingers]. It wasn't enough.
Speaking on the advancement of the "Mean Girls" storyline, Malkin asked,
So, is Regina [George] having babies by this time?
McAdams, without missing a beat, replied,
Yeah, Regina's probably had a few, right? Mean babies. Babies who are plotting your demise, in the womb.
Believe it or not, in case you weren't already feeling old AF today, "Mean Girls" hit theaters in 2004. George W. Bush was barely halfway through his presidency at that point!
Earlier this week, McAdams' fellow "Mean Girls" co-star, Amanda Seyfried, opened up about a slew of things, including mental health issues and living with OCD.
"Mean Girls" will always be an iconic movie for so many of us, but it's really awesome to see some of the women who starred in the film doing such big and important things years later.
We can only hope to see Rachel McAdams starring in a "Mean Girls" musical under the bright lights of Broadway, and when that day comes, you better believe your boy will be sitting front and center.
Citations: Yes! Rachel McAdams Is Up for a Mean Girls Reunion and Musical (E! News)