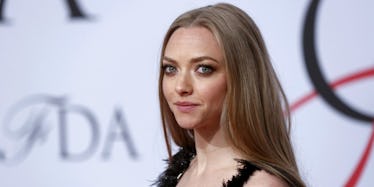 Amanda Seyfried Opens Up About Her OCD And Why She'll 'Never Get Off' Meds
REUTERS
Amanda Seyfried has come a long way since making her film debut in "Mean Girls" in 2004.
Now, the 30-year-old boasts a slew of starring roles on her cinematic resume, including films like "Mamma Mia!," "Les Misérables," "Lovelace" and "Ted 2."
However, all the fame, fortune and success in the world can't cure Amanda Seyfried's Obsessive Compulsive Disorder (OCD).
Seyfried recently sat down with Allure magazine's David Denicolo to talk about living with her OCD, making pies and her irresistible eyes.
Sitting on the patio of a small cafe in the tiny hamlet of Stone Ridge, located about two hours north of Manhattan, Amanda Seyfried talked about her country home and the fact she'll be on OCD medication for the rest of her life.
She explained,
I'm on Lexapro, and I'll never get off of it. I've been on it since I was 19, so 11 years. I'm on the lowest dose. I don't see the point of getting off of it. Whether it's placebo or not, I don't want to risk it. And what are you fighting against? Just the stigma of using a tool? A mental illness is a thing that people cast in a different category [from other illnesses], but I don't think it is. It should be taken as seriously as anything else. You don't see the mental illness: It's not a mass; it's not a cyst. But it's there.
Seyfried pivoted from the topic of mental health to talk about whale watching in Connecticut, which was then followed up by an assertion she's going to buy a baby pool from Target.
Because it's fall, and we're all basic at heart, Denicolo then asked Seyfried about her love for baking, to which she replied,
Pies. Yeah. Fuck yeah! I once made a pecan pie for a guy I was dating, and we had a nice meal — I think it was paella — with friends, and then that night, when we were alone, he said, 'Did you really make that pie?' I mean, who says that?
Clearly, this dude was not a keeper.
The more folks who use their various platforms to speak about mental health, the better off we're all going to be.
Citations: Amanda Seyfried on Her Dog, Her Mental Health and Those Eyes (Allure)