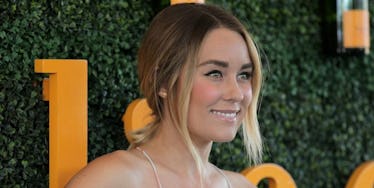 Pregnant Lauren Conrad 'Hasn't Zipped Pants In Months,' Looks Better Than You
REX/Shutterstock
Lauren Conrad and I have the same body, except she's carrying a baby inside of her.
I'm just overweight.
The former "Hills" star is currently pregnant with her first child and is living it up as a wobbly pants-less woman.
Yeah, the 31-year-old admitted to E! News she's had to alter her fashion choices ever since her little nugget started growing in the womb.
In a previous interview, LC said her go-to pants were jeans, but now she takes that back and prefers a stretchy waistband.
When discussing the change, Lauren told the outlet,
I haven't zipped pants in months!
Fair. I hate jeans. I feel very restricted, and blue just isn't my color. Also, when I sit, I have this giant fat roll just chilling and hanging there waiting for someone to poke at it.
I'm all about the stretchy pants. I'm gonna be an A+ pregnant woman.
Lauren also admitted the first items of clothing she's gonna throw out after she has the baby are her bras because "they won't fit."
Lmao, LC, just go bra-less. It's in these days. Free the nip!!!!!!!!!
Lauren and her husband, William Tell, actually know the sex of the baby, so that's pretty exciting.
They unfortunately didn't share the news with us, so I guess the only legit information we have is that it's human.
Yay babies!!!!!
Lauren Conrad isn't the only "Hills" star with a baby in her belly.
Whitney Port recently announced her pregnancy on Instagram with an adorable photo.
She wrote to fans,
Oh hey! Just standing by the window in my underwear, with a BABY in my belly!!! DM me if you know what I'm supposed to do with this thing for how ever many years I'm supposed to be in charge. Check out my blog for a little letter from me & Timmy and for more behind the scenes of this crazy journey!!!! We are sooooo excited!!!!
Wow, time sure does fly when you're making babies!
On top of that, Jason Wahler and his wife, Ashley, are also expecting a child.
YES, that Jason.
CONGRATS ON YO' BABIES AND PREGNANT BELLIES, Y'ALL.
So, who will get preggos next??
Citations: Lauren Conrad Pregnant Pants (E Online)