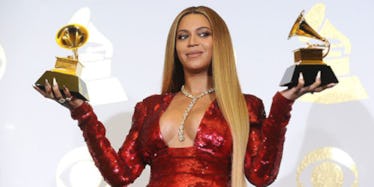 22 Hilarious 'Pregnant Beyoncé' Memes That Are Taking Over The Internet
Getty Images
Beyoncé being pregnant with twins is literally the greatest thing that has ever happened to me.
She is my lord. She is my light. She is my savior. She is the only thing getting me through my entire existence.
If what people are saying is true and the next couple of years under President Trump will produce some of the best art we've seen in decades, Beyoncé's twins were the first installation, and Beyoncé pregnancy memes are the second.
The internet has been blowing up with EXCELLENT meme content ever since The Savior announced her pregnancy, and honestly, praise be. This is exactly what we need to get through the apocalypse.
The memes started on February 1, the day Bey dropped her baby news in the now most-liked Instagram post of all time. (She deserves this honor. It's honestly rude she wasn't holding that crown before this point. Selena Gomez should have pulled an Adele and given it to her.)
We were blind, but now, we see.
And then, Beyoncé posted a picture of her ordering food at a dinner with Jay Z, DJ Khaled And Friends™ on Instagram last week.
And the pic of her ordering a meal instantly blew up into some of the greatest meme content the internet ever did SEE.
AND THEN, SOMEONE DID THIS. WHO DID THIS?
I HATE THIS. THIS IS HONESTLY SO RUDE. BUT IT'S ALSO FANTASTIC.
Then we can't forget the great content from Me And My Friend, Theresa™.
Beyoncé is the best at literally everything, so obviously the memes about her are also the best on the entire internet.
According to my FOOLPROOF INVESTIGATIVE JOURNALISM, Beyoncé is going to give birth sometime this month. I'm hoping the twins will arrive in all their celestial glory on May 5 because five is my lucky number.
But knowing Beyoncé, she's probably in labor literally right now and is planning on debuting the twins on the next red carpet she goes to.
This will be her, except with one twin in each hand instead of a Grammy.
You can place your bets by tweeting me @kellixboyle.
Thank you for your patronage.
Citations: The 23 Best Beyoncé Pregnancy Memes (Cosmopolitan)