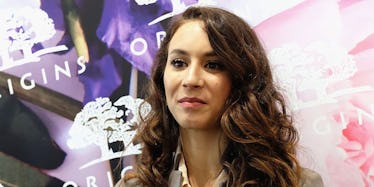 'PLL' Star Troian Bellisario Opens Up On Past Eating Disorder In Candid Interview
Gustavo Caballero/Getty Images
Troian Bellisario, best known for her role as Spencer Hastings on Pretty Little Liars, is opening up about her struggles with an eating disorder, which is the subject of Feed, her upcoming movie that she stars in and wrote.
In a candid discussion with Pretty Little Liars director and friend Lesli Linka Glatter for Interview magazine, Bellisario talked about the impetus for making the movie and what she hopes to accomplish by bringing her personal battle to the screen.
Speaking about the movie she set out to make, she told Glatter,
I felt like there was a story in me that hadn't been told, and it was a very personal story and it came from a point in my life when I felt like I had experienced something and, still to this day, I couldn't get anyone -- even the people who loved me the most, even my boyfriend or my mother or my father -- to understand what that experience was truly like for me.
She continued,
It was about my eating disorder, and I found there were so many people who thought that it was about losing weight or being skinny, and I couldn't quite get them to understand that it was about control on a very, very literal level. So I thought, 'If I can tell a story that puts the audience in a position to make a similar choice to the one that I made in my young life, maybe I could get them to empathize.'
The 31-year-old actress wrote Feed before she landed the role as Spencer but didn't seriously consider making the movie until she was on set.
Speaking on her decision to make the movie, she told Glatter,
I think it really stems from my parents telling me that if there is a story you feel compelled to share, then you are responsible for doing that. You can't ask someone else to take on that story—or you can, but you have to deal with whatever the fallout is. If the story doesn't end up being told the way you originally heard it or that you feel it needs to be expressed, that's on you.
Bellisario married Patrick J. Adams (from "Suits") last year in an incredible wedding ceremony dubbed "Fort Day."
As far as what her family and friends think about Feed, she said they were supportive but also nervous about the project. The actress revealed,
They were all very afraid, which I totally understand. They'd been through hell watching me and feeling powerless themselves. And here I was saying, 'Hey guys, I know that I've gone through a lot of therapy and a lot of heartbreak to make myself strong enough to live without this thing, but I'm actually going to make a movie where I go back and engage with it fully.' It was not easy; it was like engaging with an addiction.
Bellisario explained how eating disorders don't just go away and therefore making the film was even more challenging because she had to revisit those past feelings. She said,
One of the things I really wanted the film to explore was that once you have this relationship, once you have this mental illness or this disease, it never really goes away. Your synapses are wired in a way that you will always feel this compulsion, but as you grow older and create a healthier life and go through lots of therapy, you tend to feel more empowered when it comes to making these choices.
Bellisario was also adamant that this couldn't be a documentary -- she wanted to tell a broader story to really empower others. "It had to be a narrative that wasn't about me," she said.
Feed will be released on VoD and across digital platforms on July 18. You can also catch Spencer Hastings in her final season of Pretty Little Liars on Tuesdays on Freeform.
Citations: TROIAN BELLISARIO (Interview magazine)