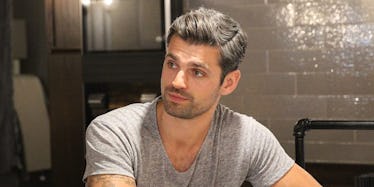 Peter From 'The Bachelorette' Posted A Shirtless Pic Of Him Eating Bacon & I'm Sweating
ABC/George Burns
SOMEBODY GET ME AN ICE PACK, DAMMIT. I can't stop sweating while looking at pics of shirtless Peter Kraus eating bacon. The man posted the hottest pic on Instagram and now I need cold compresses on my forehead immediately. There's a 89 percent chance I will actually pass out, so maybe like, call my mom? After Peter cried on The Bachelorette and left the show without a fiancée, fans had exactly three questions (no more, no less): 1) Does Peter Kraus have a girlfriend? 2) Where does Peter live so I can move there immediately? 3) Does anyone else think Peter is gonna be a banging grandpa 'cause that silver fox knows how to work that salt-and-pepper hair??? MAKE OUT WITH ME.
On the beautiful morning of Aug. 16, the entire world was blessed with this gorgeous picture of Peter's nipples, biceps, and a plate of overcooked bacon. The question on everyone's mind though, is WHO THE HELL TOOK THIS PHOTO? Peter either prompted his iPhone up on a stack of books and set a timer, or there's a mystery woman in his life cooking him breakfast.
IT HAS TO BE ONE OR THE OTHER. THERE IS NO IN-BETWEEN. Peter, babe, be honest with me. ARE YOU STILL TEXTING B*TCHES, YES OR NO?!
Whatever, let's forget about her and focus on what this post is really about: Peter's nipples. Everyone, please, bow your heads and take a moment of silence to honor Peter's nips. I zoomed in on the juicy parts of the pic and posted them on Twitter so the whole world can drool with me. When I die, please invite Peter to my funeral so he can stand over my dead body shirtless while "What Hurts The Most" by Rascal Flatts plays in the background. What? It's romantic.
Peter posted the photo with the caption,
#WorkoutWednesday starts in the kitchen. #bacon
I would pay 3 million dollars and donate five body parts if I could cook Peter bacon. It would be an honor to feed this man. After stalking Peter's Instagram and watching interviews of him after The Bachelorette, I feel like it's safe to say PETER IS SINGLE HEHEHHEHE COME TO MAMA.
I love you, Peter. Can't wait to spend forever by your side.