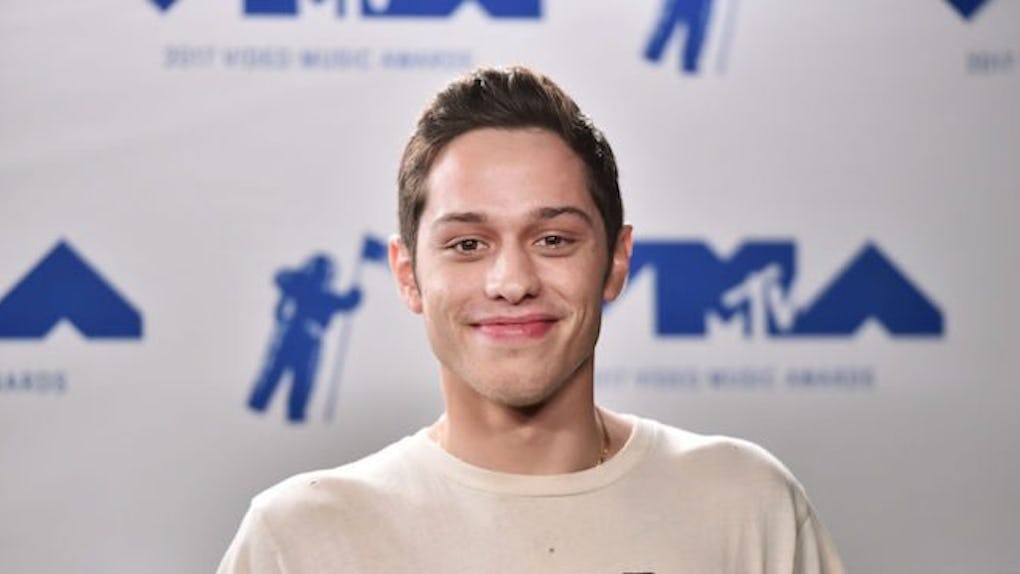 Alberto E. Rodriguez / Staff / Getty Images
Pete Davidson's "Dead Presidents" Shirt At The VMAs Had Twitter Going Nuts
When it comes to award shows, outfits are one of the most-discussed topics. If you're a celeb who's performing or attending an event, it's imperative to nail your look. So when comedian Pete Davidson decided to wear a "Dead Presidents" shirt at the 2017 VMAs, people on Twitter just couldn't contain themselves.
Demi Lovato might have rocked a sheer jumpsuit, and Miley Cyrus might have kept things tame in comparison to previous years, but Davidson's shirt was the outfit that seemed to have gotten everyone's attention. This was only one of many political references at this year's show. Katy Perry's intro, Paris Jackson's mention of white supremacists, and speeches from P!nk and Kesha about love, acceptance, and getting through dark times totally tapped into what is happening in 2017. The show even hosted transgender military members in response to Donald Trump's controversial ban.
"MTV continues to be a pioneer and fierce advocate for the LGBTQ community by giving one of the most visible platforms to voices that need to be heard," said GLAAD president and CEO Sarah Kate Ellis in a statement, according to CBS. "Throughout all the tweets, memos, and speculation, brave transgender Americans are still serving their country and defending the freedoms of this nation while meeting the same rigorous standards of their peers. We are proud to stand with them."
And everyone on Twitter stood with the SNL comedian and his t-shirt of choice.
But outfits aside, the event also marked an important time in our history, as the late Heather Heyer's mother, Susan Bro, took the stage to announce her daughter's foundation in the wake of the Charlottesville attacks earlier this month.
"Only 15 days ago, my daughter was killed as she protested racism," Bro said. "I miss her, but I know she's here tonight."
Despite differences in appearances, beliefs, and so on, music looks to unite everyone to celebrate their individuality, and that was certainly a goal of this year's event.