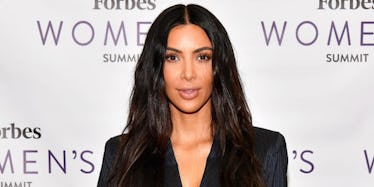 People Are Pissed At Kim Kardashian Over This Photo She Posted Of Saint West
Dia Dipasupil/Getty Images
Kim Kardashian is getting some heat for a picture she posted on Facebook of her year-old son, Saint.
In the picture posted Saturday, Saint is seen sitting in his car seat looking adorable as ever. It's a seemingly harmless photo, and Kim was probably just posting it because Saint looks cute as a damn button, but fans are calling her out for the car seat.
You see, California law states children under 2 years old must be in car seats that are facing backward, so fans are saying Saint's seat should be turned the opposite way for safety purposes, and they're calling Kardashian out on the apparent safety hazard.
But the law also states the car seat can be facing front as long as the baby weighs 40 pounds or is at least 40 inches long. There's no way for us to know for sure what Saint's height or weight is, and we can't even know for sure that this photo was taken in California. If Kim was in a different state with her son at the time, it's possible the rule didn't apply here.
But she was most likely in California, seeing as North's Moana-themed birthday party was this past weekend, as well. Either way, Kim most likely knows what she's doing and is making sure her children are safe when traveling. If Saint is 40 pounds or 40 inches long, there is literally nothing wrong with the picture.
People are leaving their opinions in the comment section of the post. One user said, "he is so cute let's protect this handsome boy by making sure [he] is rear facing."
Another user responded saying, "He's big enough to not be in a rear facing car seat anymore. He's gonna be 2 in a few months, he looks plenty big enough to be foreword facing."
Others came to Kim K's defense even more intensely, saying, "Oh no watch out here comes the car seat police to try and lecture you on how to put your child in a car seat ... go worry about your own child and let the woman post a picture of her handsome little boy."
Since we have no way of knowing Saint's height or weight, no one really has any place to be shaming Kim Kardashian for this.