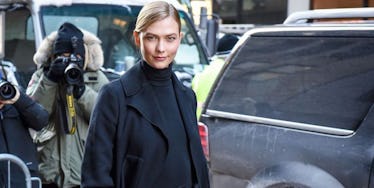 People Are Pissed At Karlie Kloss For Being 'Racist' In Vogue's Diversity Issue
REX/Shutterstock
Karlie Kloss is in some hot water after dressing as a geisha for Vogue's March issue, the theme of which is literally *sighs* diversity.
Noooooo, Karlie. Big time nooooo.
Mikael Jansson was the photographer for the shoot that took place in Japan.
In each shot she is wearing a Shimada-styled Nihongami wig.
Here she is straight-up posing with a sumo wrestler.
I don't even know what she's doing in this one, but it doesn't look great.
The internet is obviously not OK with this, especially given major diversity problems in Hollywood and the modeling industry.
Eventually Karlie did release a statement to her Twitter apologizing for the photos, saying,
These images appropriate a culture that is not my own and I am truly sorry for participating in a shoot that was not culturally sensitive. My goal is, and will always be, to empower and inspire women. I will ensure my future shoots and projects reflect that mission. Sincerely, Karlie.
A lot of the web isn't buying this apology, though, especially given her history of racial insensitivity.
The caption of the tweet was a reference to the time in 2012 when Karlie came under fire for wearing a Native American-inspired outfit during the Victoria's Secret Fashion Show.
That time, Karlie also released a letter apologizing for her actions.
This isn't the first controversy Vogue's diversity issue has started.
People are claiming the cover photo, which features a series of high-profile models (including Ashley Graham, Gigi Hadid and Kendall Jenner), only showcases racial diversity and not body diversity. Many even went as far as to say Ashley Graham, the only plus-sized model on the cover, was told to cover her thighs with her arm.
She is also the only model on the cover who is wearing all black.
The Karlie Kloss-troversy comes just days after she offended 98 percent of the internet by confusing Beyoncé for all of TLC.
Not a great week for Taylor's bff.
Citations: Karlie Kloss Apologizes for Geisha Photo Shoot in Vogue's 'Diversity Issue' (People)